With the recent Spending Review focusing heavily on house building, Shaun Peart, Managing Director of LSL Land & New Homes, provides Showhome with his views on the market
What are the key services that LSL Land and New Homes offer?
We provide a full estate agency service to developers, where we act as a high street agent for them. We can also man sites for developers. We offer bespoke services including estate agency, land acquisition and disposal, asset management (part exchange and assisted move), consultancy and financial services according to our customer's needs.
Which of those services is the most popular?
It is difficult to say, originally our part exchange service, was very popular yet now we, have a strong demand for all our services and are selling more new homes than we've ever done before. This year we hope to sell 5,000. The new build market it flying, and with help from schemes like Help to Buy, it's a great time for the business as a whole.
How has the part exchange changed in recent years?
It's actually gone backwards. The percentage of the market that we are taking has grown, but the overall market has shrunk, due partially to the attraction of Help to Buy. Why would a developer hand over capital in their business when there is a fantastic Government opportunity sitting there? For most of the major house builders, their part exchange offering has shrunk significantly.
Do you think part exchange has had its day, or should the Government be encouraging that as well?
If you ask most house builders, Help to Buy has been welcomed, providing a life line to smaller builders and providing the stimulation the market needed. Yet, while the Scheme has been excellent in encouraging the public to buy new homes, I feel the Government still needs to do more to make improvements to the planning stages.
How do you see the housing market in the UK currently?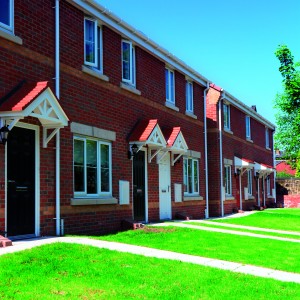 There are two problems with the house building industry at the moment. Firstly, it is top heavy in terms of market share. The top 20 or so, larger housing companies now control 75% of the market. Considering 30 or 40 years ago, there were about 12,500 SME (Small/ Medium Enterprises) house builders; each building fewer than 100 houses each per year, yet this number has now shrunk to just over 2,000. This causes a real problem, as the larger companies have already had their fingers burnt back in the recession and they are never going to build to the same volumes as they did before 2007.
This leads to the second problem: Capital. Some of the SME house builders who may want to enter or rejoin the market may be struggling to raise the necessary funds or be 'bogged down' by the red tape. This is hindering the market and stopping us reaching the targets set.
Do you think the Government should be looking to step in and help?
Overall, I would say that the Chancellor has taken a very bold but encouraging stance with regards to the property industry. Now the budget has been increased to £2bn pa, I feel the next three years are going to be very exciting. With the advent of the increase in the help to buy schemes, in and around London and the increase in tax for investors through their tax position and the additional 3% Stamp duty to be paid, Mr Osborne is making it easier for properties to be bought for home use, and not just for the investment market.   However, the negative impact of these tax changes, in my view, could see rents being driven upwards to accommodate the extra tax the landlords now have to pay.
We are a nation of house builders, and there a lot of large house builders but the government needs to be doing more to support the local house builder; those people who have grown up in the area they are building and generally know their customers on first names terms. They need to be supported and encouraged to take on apprentices, and be rewarded for what is a very experienced and technical craft.
Local government needs investment too. There is a shortage, resource-wise of planners, for example, due to lack of investment. So naturally they look to the private sector. This, then, has a knock-on effect whereby the existing services are being continually stretched and will only get worse, with the government's desire to use the housing industry to drive the economy forward, as seen by the need to create 400,00 new homes by 2020. However, I feel, that, If these matters aren't addressed the country will still fail to deliver on the number of new homes being targeted.
Anything the government can influence is a positive  and is welcomed by house builders but the detail of the schemes are yet to be shared, and we won't know the exact details until the budget, but this will have a dramatic effect on its success.
Would you say that certain regions are, perhaps unexpectedly, doing slightly better than others?
It's very interesting. What we have seen over the past few months, especially since the stamp duty reform on properties over £1 million, is that there has been a massive reduction in the number of property transactions within Zones 1 and 2 of Central London. Clearly this has caused a "ripple effect" which has started to impact on places further afield, such as Yorkshire and the Humber. There have been some surprising results.
The Northern Ireland and the Irish market, in general, has come back very strongly. In reality, a lot of regions have started to see some positive news, and it will be very interesting to see if Zones 1 and 2 can reverse their downward trend.
Some I believe it will be a relatively flat market for the next 12 months or so with some capital appreciation in places, but not the double-digit growth as once seen. Commentators also believe that the new build market will grow, but not at the rate we need. If some of the Government reform I mentioned earlier takes place we might get close but it won't be easy.
We need to look at the availability and ease of access to public sector land; sadly the "red tape" involved means acquiring such land can be a, very, slow process. If that, process, could be expedited and with more SME builders coming to the market, who have access to greater capital, the 400,000 target could become much more achievable.
Does the industry have to collaborate with the authorities to work towards the target? 
Absolutely! Obviously the Government now understands the economic benefits that can come with a strong house-building market, but I still think that, some, Government bodies lose sight of this!