RISCO Group's intruder alarms have leveraged the Internet of Things and growing demand for connected devices
The Internet of Things (IoT) is radically changing the way in which we live our lives. A growing number of homeowners are taking advantage of Internet protocol (IP) enabled technology to create smart homes and RISCO Group's intruder alarm systems are playing a leading role in this process.
Estimates about the amount of connected devices set to be in use over the next few years vary enormously. However, according to Intel, the IoT is predicted to grow from two billion objects in 2006 to 200 billion by 2020, when there will be around 26 smart devices for every human being on Earth. IBM claims that every day we create 2.5 quintillion bytes of data – according to the US definition that's one followed by 18 zeros. To put that huge number into perspective, it equates to filling up 57.5 billion 32GB Apple iPads.
Drive time
A key driver of the IoT is the demand for ever smarter and technologically advanced homes. In the past, the term smart home conjured up images of expensive gadgets and gizmos that were only to be found in the mansions or grand estates of the ultra-rich. However, the assumption that it is all something of a 'Tomorrow's World' concept has been turned on its head in the last few years, with highly advanced systems being introduced into dwellings of all shapes and sizes.
Generally speaking a smart home incorporates advanced automation systems to provide inhabitants with sophisticated monitoring and control over a building's functions. These include lighting, climate control, multimedia and audiovisual (AV), window and door operations, energy metering, as well as security. The UK smart home market is growing rapidly and a study by AMA Research found that while it was estimated to be worth around £65 million in 2011, this figure is set to spiral to £210 million by 2019.
Smart attack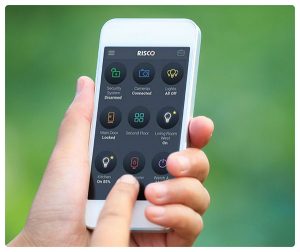 RISCO Group offers a wide variety of products designed for the homeowner that make premises safer and more secure. Someone that has an established track record in using the company's products to create smarter homes for his clients is Rob Rathbone, Managing Director of Cheshire based KHG Security. He comments: "We only offer cutting edge equipment, installed to the highest possible standards by time served, professional technicians. We've used intruder alarm technology from RISCO Group in a diverse range of installations over the years and have always felt that it offers a level of functionality and flexibility that is perfectly suited to meeting the increasing demand from homeowners for networked abodes."
As it becomes more cost effective to install an IP enabled intruder alarm system and homeowners recognise the benefits of having one installed, KHG Security has seen a rise in demand for its expertise in this area. Rathbone continues: "Most of our customers initially see an intruder alarm system as a one dimensional product but once we have installed it they are often amazed at the additional lifestyle benefits it provides. Others, however, are far more tech-savvy and are fully prepared to exploit the full range of features that RISCO Group's technology can offer."
Forward thinkers
Two individuals that qualify for the latter group are Malcolm Gruber and Dominic McCormick. Both resident in Cheshire, they have used the services of KHG Security to implement RISCO Group's intruder alarm technology in a plethora of innovative ways.
Having moved into his new home in 2015, Gruber had intended to update the existing security system, however, it became a priority after one eventful evening. He explains: "Unfortunately, I managed to lock myself out of the house and having gone to lots of time and trouble to get a locksmith to attend and let me in, we started talking about intruder alarms and he recommended KHG Security. I already had a good idea about what I wanted, but as soon as I met Rob I was impressed with his clear interest in creating smart homes."
After conducting a risk assessment, Rathbone recommended the installation of a RISCO Group Agility 3 two-way wireless alarm system. Agility 3 supports visual verification with a self-monitoring smart phone app, which enables homeowners to control their alarm systems remotely, as well as view real time images taken inside their premises with a wireless passive infrared (PIR) camera detector that communicates with the RISCO Cloud server.
As a dog owner, Gruber was concerned about the welfare of his pet when he went out. He comments: "Dogs can get very distressed when they are apart from their owners, so I wanted to be able to remotely monitor what is happening. I now have three cameras located throughout my home, which I can activate via my smartphone at any time and take photos if necessary. This gives me valuable peace of mind about my dog's welfare and means I can take any action if required."
The Agility 3 also allows him to arm and disarm the system remotely, so that he can grant access to neighbours, dog minders and his cleaner, as required. If an alarm goes off it takes a burst of four pictures that are instantly sent to him and if he doesn't respond to the text notification and turn the alarm off, an alarm receiving centre (ARC) will call him directly.
Life of Pi
Fellow tech-junkie, Dominic McCormick, firmly believes that the smart home is now within reach for all, and found a likeminded soul in Rob Rathbone.
"We only moved into our new home in January," says McCormick. "One of my immediate priorities was an IP connected intruder alarm system. After consulting with Rob on the most suitable solution, we decided that a LightSYS 2 system from RISCO Group would offer immediate benefits, as well as the opportunity to scale up and configure new ways of linking our home infrastructure to it."
LightSYS 2 is a professional hybrid system that offers ultimate flexibility, with advanced IP and GSM/GPRS or STU adaptor communication, as well as a choice of wired, wireless, or bus detectors. "Like the Agility 3, it benefits from a smart phone app that enables users to control their alarm systems remotely," states Rathbone. "Yet, despite its advanced capabilities, it is the easiest system on the market to install and support, with a simple keypad menu structure and seamless configuration software connectivity via RISCO Cloud."
Comprising internal PIR detectors, as well as window and door sensors, McCormick is impressed with the functionality of the new system and has begun to adapt it to suit his specific needs. He explains: "I'm a keen user of the Raspberry Pi – a tiny, credit card computer that you can buy for less than £20 and runs Linux. I'm looking at ways I can combine its use with the LightSYS 2 to make my home more IoT enabled. I'm already using the Utility Output feature of the LightSYS 2 on my new garage door to open and close it remotely in order to accept deliveries when I'm out. My latest projects include developing an electric lock and door opening sensor that can open a door when my hands are full, and the ability to open and close curtains with a smartphone based voice command. Longer term, it's clear that integrating the LightSYS 2 with the Pi and other Smart devices will provide capabilities far beyond its initial purpose."
Look ahead
Homeowners are looking to integrate all the different electronic systems they have and the explosion of smart devices has increased awareness of the lifestyle benefits of using technology in this way. KHG Security's Rob Rathbone concludes: "With IDC forecasting that the worldwide market for IoT solutions will grow from $1.9tn in 2013 to $7.1tn in 2020, pioneers such as Malcolm and Dominic are already realising the ways that RISCO Group's technology can create the homes of the future today."
RISCO Group creates integrated security solutions for global security markets. From software solutions to high-performance wired and wireless integrated systems, the company develops products matching customers' requirements and industry standards. RISCO Group's solutions for buildings and control rooms, sophisticated detector technology, intrusion, video and access control systems are found in commercial, industrial, institutional and residential applications around the world.
www.riscogroup.com/uk