Haroun El-Helw, Head of Marketing at SSQ Slate, discusses why architects who want to make a truly informed slate specification need to look to the new NF 228 standard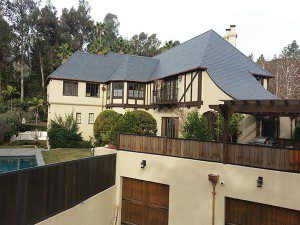 When choosing a roofing material, natural slate presents the obvious choice when looking for an aesthetically appealing, long lasting product.
An incredibly durable product, natural slate has an extensive lifespan, with products known to last for 100 years and often outliving the original building. An architecturally stylish and unique roofing material, the aesthetic appeal of natural slate continues to endure with the UK being the world's second largest consumer of natural slate products.
Ideal for housing, a good quality slate does not fade or deteriorate, conserving the optic allure of the building through time and, consequently, its value. Also, natural slate requires minimum maintenance over its lengthy lifespan, meaning on-going investment is not necessary, proving it can be a cost effective material.
Like any building product, the prime concern for architects, specifiers and contractors when choosing natural slate for housing should be quality. However, though there are defined European requirements and tests, National Building Specification (NBS) states that 'specifiers are still finding it difficult to understand why slate that adheres to the standard can be so different in quality'.
The current European slate standard, EN 12326, was introduced in July 2004. Within the UK, it replaced the old British standard BS 680. In 2014, EN 12326 was revised and reissued with the aim of providing further clarification on quality to suppliers, architects and specifiers as well as added scrutiny when it came to testing standards. Instead, the revision has resulted in further confusion, firmly placing the burden on the end user to select a slate.
For example, the water absorption criterion has been somewhat convoluted. The water absorption test's purpose is to quantify the percentage of water that a slate absorbs after it is submerged for a prolonged period. There is a direct correlation between slate's absorption level and its susceptibility to damage in freeze/thaw cycles. This means that a slate with a relatively high absorption level is more likely to suffer a significantly lessened service life.
Previously, to attain the highest award, slate would have had to adhere to a threshold figure of <0.6%. For many, this figure was already too high a limit. The preceding British standard set the bar at 0.3% and the French standard is 0.4%. Under current regulations, a slate that tests >0.6% can still carry the highest classification as long as it exhibits an adequate freeze-thaw resistance' – a rather ambiguous classification.
However, the most pressing issue surrounding the European standard is the omission of a pass/fail criterion, which was present in previous European standards incarnations. Consequently, test results need to undergo timely and forensic analysis by specifiers to determine whether a slate is of the required quality.
For example, the thermal cycle test is designed to determine the levels of rust or oxidisation present in a slate. Six pieces of the slate are repeatedly soaked in water and dried out over a period of up to 21 days. Then, the samples are examined for corrosion and given a T1, T2 or T3 score, with T1 being the best quality category.
Similarly, the slate is also tested with sulphur dioxide exposure and has three levels of grading, examining the ability of a slate to withstand atmospheric pollutants. This is because when in contact with atmospheric pollutants, such as sulphur, slate can become soft and weakened. To ensure legislative compliance, slates with the potential to become softer have to be of an increased thickness to prevent the deterioration of the product's lifetime.
This means, theoretically, a slate could achieve the lowest score in the thermal cycle criteria, in the sulphur dioxide exposure criteria and have a water absorption level of 0.6% and still claim compliance with the EN 12326 standard. Slate of this composition would be prone to appearance changes, which penetrate the slate and risk the formation of holes and would be at risk of critical failure due to cracking, increased weathering and damage caused by freeze-thaw cycles.
The CE marking is also an issue that misleads and causes consistent confusion amongst the industry. A legal requirement, the CE marking is applied to many products sold or used within the common European Economic Area. The mark shows that the product meets the requirements of any relevant European Directives. With regards slate, it is a mere signifier that the product has complied with the EN 12326 standard. However, this declaration of conformity does not actually give an indication as to the relative quality or likely performance of the slate in use without a deeper interrogation EN 12326 test results.
Given these factors, the only sure way to guarantee the optimum quality of a slate is to acquire it from a trustworthy and reputable supplier that tests its slate to a higher than required specification. Consuming the most natural slate globally, France enforces more stringent testing of slate, known as the NF 228 standard.
Widely known as the Michelin Star standard of the slate world, NF 228 assured slate has been subjected to the most rigorous of requirements, including tests for water absorption levels, flexural and transversal strengths, density as well as carbonate and non-carbonate content. This independent testing procedure ensures that NF certified slate will not rust, leach or fade over time.
Furthermore, unlike EN 12326 testing, the slate producer cannot choose the sample to be selected for testing. An independent French laboratory carries out NF testing in a controlled environment with independent NF testers also flying directly to the quarries to carry out random examinations at source. Another benefit of NF 228 certified slate over slate complying with EN 12326 is its traceability. Each pallet of NF marked slate carries a barcode allowing the slate to be traced back to its exact source, enabling the buyer a high level of assurance as to the slate's authenticity. Additionally, slate that adheres to the NF 288 standard automatically passes the EN 12326 test, achieving the highest scores possible, as well as achieving a water absorption result of <0.4%.
There are, at present, some specialist suppliers operating within the UK that offer slate that carry the NF 228 standard. One such supplier is SSQ Slate. In fact, SSQ Slate's Del Carmen range is of such superior quality, it achieves the NF 228 standard in the three selections that the quarry outputs – Ultra, First and Celtas. An exclusive slate from the Del Carmen quarry in the Cabera Mountains of North-West Spain, SSQ Del Carmen is consistently handpicked by architects worldwide for its unrivalled beauty and exceptional high quality. Del Carmen Slate comes for the same uninterrupted seam of high quality stone and is known for its distinctive, faintly rippled riven texture, deep blue-black colour and characteristic longitudinal grain.
In its present form, EN 12326 is a necessary but not sufficient measure for sourcing slate of superior quality. Despite attempts to simplify and consolidate standards throughout the European slate sector, the current EN 12326 still carries an unacceptable level of uncertainty for specifers. Until such time as this issue is resolved, the most effective manner of choosing good quality long-lasting slate will be the Norm Français 228 standard.