Multi-award winning kitchen specialist Caple's two new kitchens are ideal for those who are looking for a timeless finish in their hub of the home. Both designs reflect traditional styles and you can choose your own handles to create a more individual finish.
Furniture Manager Doug Haswell explained "As more homeowners choose to remain in their current properties, the trend for classic kitchens, which can stand the test of time, continues to grow. The Shaker style, with part beveled internal beading, for example, is popular as this can add more depth to the overall kitchen design."
Caple's Finton in painted ash is available in ten colours – Anthracite, Blueberry, Cashmere, Fjord, Grey Mist, Monsoon, Pastel, Stone, Storm Grey and White. So, you can mix and match these shades for a more individual finish or simply pick one colour way.
The Roma kitchen features Shaker-style, foil-wrapped doors and comes in nine colours – Cashmere, Dakar, Denim Blue, Dust Grey, Fjord, Grey, Mussel, Oyster and White. Again, this enables you to put your own personal stamp on your design with such a wide variety of colours to choose from.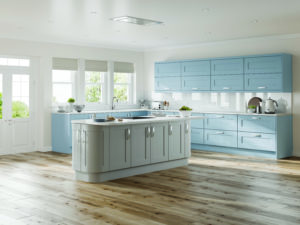 The Finton costs from around £16,700 including VAT or from £297 for a 600mm hi-line base unit and the Roma costs from around £5,700 or £198 for a 600mm hi-line base unit.