Knauf Insulation donated its Earthwool® FrameTherm slabs and Earthwool RoofSlab Hybridto a special edition of BBC's DIY SOS in Manchester. The project, which even caught the attention of Princes William and Harry, transformed two streets into affordable housing for ex servicemen and women.
The build took place on Canada Street and New Street in Newton Heath, Manchester during September. With help from local and national volunteers, the homes were transformed for war veterans – many of which helped with the project, with the assistance of the charity Walking With The Wounded, who retrain veterans to work in construction trades.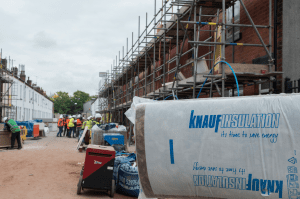 Knauf Insulation provided the project with 125m2 of Earthwool FrameTherm slabs to insulate many of the external walls of the homes to help provide a warm and comfortable environment to live in.
Some of the homes featured on the DIY SOS project had flat roofs and as such, Knauf Insulation's Earthwool RoofSlab Hybrid insulation was installed, providing a solution that has exceptional acoustic, fire – Euroclass A1, thermal and compressive strength performance.
Lydia Sharples, at Knauf Insulation, said: "We are delighted to support such an amazing and important build. It's vital that the commitment given by our veterans is recognised and creating a new housing community for them does just that."
The two-part DIY SOS special was first aired on 14 October and then on 21 October 2015 at 8PM on BBC One.
For more information please visit www.knaufinsulation.co.uk