The construction sector has had a slow start to 2016, with contract values for January dipping to £5.3 billion, a decrease of 9% on the month and a more substantial reduction of 33% when compared to November 2015.
According to the latest Economic & Construction Market Review from industry analysts Barbour ABI, the residential sector led the construction industry with a total contract value of £1.4 billion in January. This was somewhat surprising considering residential contract values dipped by 36% compared to the previous month, based on a three month rolling average (see figure 1.1).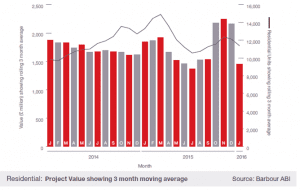 Looking across other sectors within the industry, the appetite for new offices continues to attract investment as they dominated the commercial & retail sector with 80% of the total contract value. This was worth just under £800 million and was greatly helped by the recently commisioned 22 Bishopsgate office scheme in London worth over £500 million. Regionally, Wales received a major economic boost, as the Hitachi led Wylfa power station in Anglesey was agreed in a £450 million deal, a coup for the region and the infrastructure sector.
Commenting on the figures, Michael Dall, lead economist at Barbour ABI, said: "Whilst January was a relatively slow start for construction in terms of contract value, the industry pipeline is relatively strong and I'm expecting to see a flurry of £100 million plus projects to get agreed over the coming months. I see private housing and infrastructure as the bright lights of the sector for 2016."
"However the industry does need to be wary of a growing trend of major contractors not being able to agree a final price with clients, largely due to cost inflation and skills shortages. It is an indication of the difficulties the industry could face in the future as demand seems to be holding strong but increasing costs could potentially affect the sector's ability to deliver."