The first collection of BIM objects is now available from the UK's top wetroom manufacturer, Impey, amidst a flurry of specifier requests for their BIM files. The requests mirror the rising trend for wetroom specification in the commercial and care/retirement sectors, in addition to escalating interest in residential wetrooms from house builders, developers and bathroom designers.
Described by HM Government in the publication 'Industrial Strategy: Government and Industry in Partnership': "Building Information Modelling (BIM) is a collaborative way of working, underpinned by the digital technologies which unlock more efficient methods of designing, creating and maintaining our assets. BIM embeds key product and asset data and a three dimensional computer model that can be used for effective management of information throughout a project lifecycle – from earliest concept through to operation."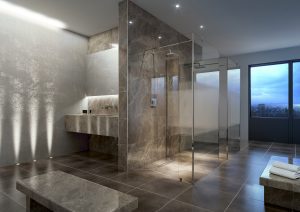 Embracing BIM and the digital approach to construction, Impey, a leading bathroom manufacturer, was keen to meet the initial BIM level 2 compliance mandate set by the Government in 2011. Impey's prominent product portfolio includes the patented Aqua-Dec EasyFit, a market-leading wetroom floor former which has revolutionised wetroom design and installation. Owing to its unique rotating drain plate, the Aqua-Dec EasyFit is the only wetroom floor former to allow for the avoidance of underfloor obstructions like existing pipework or joists, without expensive and time-consuming adjustments. It is also now, along with two other Impey floor formers, one of the first wetroom floor formers to be available as a downloadable BIM Object from leading BIM portal: www.bimstore.co.uk.
Liam Ryan, Sales Director for Coram Group UK explained: "As the UK's foremost wetroom manufacturer, embracing BIM was very important to us. Via BIM we can share accurate product data with architects, designers and specifiers. This product data, which can be located quickly and easily, can then be used within a Common Data Environment as part of any type of BIM construction project. For some time we have been receiving requests for BIM files from architects, specifiers and bathroom designers and it was important to be able to supply that information in the best format possible. Now that our initial release of BIM objects is available, we intend to add to it with further 3D models from both our Impey and Coram product suites. "
Three of Impey's best-selling wetroom floor formers; Aqua-Dec Easy Fit, Aqua-Dec Linear 2 and Aqua-Dec Linear 4 will be downloadable as BIM objects in the Revit file format from May 2016. This means that the selected wetroom products will be available as detailed digital 3d models, demonstrating exact form and functionality, for use in project planning and design.
Impey chose leading BIM portal, bimstore.co.uk to collaborate with on their initial BIM object releases. Gillian Smith, Partnership Manager at bimstore.co.uk said: "We are incredibly pleased to have Impey BIM objects available exclusively on bimstore.co.uk. The recognisable growth in wetroom installation means that floor formers are going to be an important and key component of many construction projects in the public and privates sectors. We are delighted that we can now offer Impey's floor formers as compatible BIM objects to our many users."
Bimstore.co.uk, which is free to access for architects and specifiers, is available as a desktop app, which allows users to search for BIM objects, then drag and drop them straight into their existing design software, as part of a new or ongoing project.
To view or download Impey's wetroom floor formers as 3d components in bimstore.co.uk's BIM library visit: www.bimstore.co.uk/manufacturers/impey or for more information on other Impey wetroom products visit: www.impeyshowers.com.