It's been a whirlwind six months for Stolz Kitchens. Sales Director, Damian Sheridan gives his reflections on the journey so far and what the future may hold.
What does Stolz Kitchens bring that's new to the market?
At Stolz we pride ourselves on being different to the current kitchen companies in the market. That's not just in terms of design and product, but how we behave. My belief is that we're not primarily a kitchen manufacturer or distributor, we're a sub-contractor who happens to do kitchens.
That's a crucial difference in mindset that leads to positive behaviour on site, pro-actively looking for the issues to solve, understanding how a site or project manager has many balls to juggle, but there's one which is really important to us, so we take ownership of that, polish it to perfection, and deliver it back.
Even simple things such as making sure that invoices match quotations, applications and variations are handled the correct way and such like saves surveyors an inordinate amount of time, it allows them to focus on the tasks they're paid to do, knowing that we will handle the kitchen side with professional expertise.
Stolz were established to "fill a gap" in the market, what gap would you say this is?
With the demise of Alno, the gap is there for an aspirational, quality and service led supplier of European kitchens. German kitchens needn't be commercially unattractive, the service offer is a huge part of what we do, and the design element is fundamental to our proposition.
There are kitchen companies in the market who are good at what they do, we're not going to be the same as others, we're a unique blend, and that's the gap that is in the marketplace. Our core values are service, quality, innovation and value. Many businesses may talk about those things, they're at 
the heart of everything Stolz do.
Stolz have only been in the market for a short time, how would you assess your journey so far?
It has been a whirlwind six months, and hugely exciting. We have secured over
£8m worth of business already, and the pipeline of opportunities is building nicely 
to support sustainable and profitable growth.
We have secured a place on the supply chains of some of the country's biggest and most recognisable developers, and have now moved into new offices based in Henfield, that should suit us for the 
next ten years or so.
We have grown
faster than anticipated and the customer feedback has been outstanding, which
is something we are hugely proud of.
What are your most popular products so far?
The Brigitte product has really inspired our customers. The choice of colours across a vast palette really enables our customers to choose combinations that they can tailor to any site. Having a wide range of colours for the handleless rails, tying that together with open units, really creates a punctuation of contrast to enhance the finishes.
The fact that worktops can match doors and panels, and the quality of the laminate worktops is the best I've seen, really allows us to formulate the colour combinations that work best, allowing open units and contrast feature units to embellish the design elements.
Stolz has established a network of supply partners, please tell us about who you're partnering with?
We've partnered with three core brands, holding UK exclusivity within our group of companies for the Warendorf brand and the Brigitte brand, whilst Impuls is a product that has been in the UK for a number of years and has it's place at the entry level. Warendorf is top end and is constructed through a patented 'wrapped' carcass system, where the unit is made out of a single panel. It is very clever, and the quality is incredible. I expect the majority of the Warendorf product to go through our sister company, the intoto kitchens retail network, but it will have a place in some of our developments. Brigitte has been around since 1922, is family owned, and is set up for growth and innovation. The ethos of that business mirrors our vision, and the breadth of product they offer means that we can inspire from a design point of view whilst controlling costs. We also have an Italian supply chain partner that enables us to deliver the entirely bespoke, high end schemes that many kitchen companies struggle to meet specification on. Anything is possible through that route and that widens our appeal in the market, particularly within Central London.
Are there any plans to increase your supply partner network?
We have other suppliers who want to work with us, and those who have innovative solutions are embracing our mindset also. We believe that you should always have a plan B or plan C in mind, and we want to ensure that the best product, at the best value, is part of our offer. For now, the four supply chain partners we have are where we expect to be and they all have the capacity to deal with the growth we envisage and cover all bases from a specification and pricing point of view.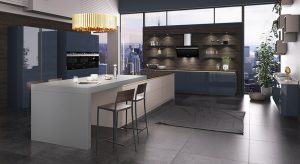 Stolz have already forged a reputation for being at the forefront of innovation, what do you do that makes you so innovative?
We challenge our customers to think again about what they have always done, and how they have done it. People think that if it's not broken, you don't need to fix it, but if that were the case we'd all go to work on horse and cart! We want to deliver product that is inspirational and aspirational.
We understand the key role a kitchen plays in not just the sale of a house, but within family life when that house becomes a home. We are brave, we have the courage of our convictions, we have the ideas and we have the skills. Our salesmen are from a design background, they're not there to take orders, they're there to consult, challenge, advise and improve.
One phrase that is completely banned within Stolz is 'that'll do'. We want to be the best that we can be, and we want our customers to have the best homes they can have. The design is the key element in terms of innovation that the customer experiences, and the customer's customer, so we put an enormous amount of effort and focus on to that.
Stolz take the ideas and trends from the European market, tailor it with the knowledge we have of the UK market, and produce insightful and innovative designs. We're Proud to be Different.
The company was only formed in 2017, what do you say to potential customers who think Stolz don't have the required experience to be successful?
We are only a start up in terms of how long we have been trading, but within the management team at Stolz there is over 120 years' experience. I've been a Sales Director for the second largest contract kitchen company and have been in kitchen sales for over 18 years.
That's a similar story across the Group CEO, Operations Director, Design Director, Commercial Manager, designers…We have the secured funding in place to grow significantly and have the resource plan in place to deliver.
The experience we have means that Stolz have the ability to deliver fast moving, complex schemes and have the skills to do the job once, complete first time and on budget, which is often where kitchen companies fall down.
Our Operations Director, for example, has held a senior Operational Position within a top 3 housebuilder in the past, having key management experience from the 'other side of the fence' really helps us to understand what the customer wants, needs and expects, and allows us to deliver a service proposition that is above these expectations.
Stolz can operate on a Nationwide basis, across a variety of budgets, and fully understand what is required from the initial tender to the sign off.
Do the company have any plans for expansion in the near future?
Our business plan is built around expansion and growth, but in a controlled manner. Our experience means that we have a wide skillset and can work in a lean way, with efficiency and quality being the watchwords.
We have recruited two additional salesmen in January, have two more designers starting in the next few weeks and have other staff roles we are filling in line with our plan.
Another experienced salesman joins in November and the back office function will flex to suit. Without the right resource you can't deliver the right service, we're crucially aware of this.
Obviously we control costs as we are here to make a profit, and the wide experience we have as a team means that our cross functional skills are higher than a typical kitchen company, working efficiently and understanding the right time to recruit is clearly important.
It's as important not to employ the wrong person as it is to employ the right person, and the vision and ethos of the company is already attracting the right calibre of people who share the vision of what we want to create at Stolz.
It's been noted that there are several Stolz employees who also worked for Alno UK, is there any connection between the two companies?
The only connection is that some of us worked there. The investment company behind Stolz did an asset purchase from the administrators in other areas of the Quality Kitchens Group, but Stolz has no link to Alno.
Stolz means "pride" in German, are you proud of everything Stolz has achieved so far?
Incredibly proud. Our team have achieved superb results and I have every faith that they will continue to do so. We look for people with the right mindset, the right passion, people who want to challenge us and improve us and them.
It took only 4 weeks from first discussions to having a fully functional business with secured funding, no mean feat. We received our first order a week after we began, delivered our first kitchens within a month, and having customers describe us as 'the best kitchen company we have dealt with', or saying 'your designs are head and shoulders above anyone else's' shows that we are doing the right things.
We picked the name Stolz because we are proud of what we've done, and will be proud of what we will achieve, and already customers are proud to be associated with us. There are still hard yards ahead, but our achievements thus far show that we have the right people and the right values as a business.
Do you have any plans to bring some new products to market over the coming months?
Yes, there are a number of products that we're developing with our supply chain, the breadth we currently have may even be too wide, but
nothing stays still, we are in a fashion industry. 
The benefit of having both German and Italian 
supply partners means that we capture the trends early and can then allow our customers to have 
the advantage in their markets.
Where do you see Stolz in five years time?
I believe we will be a significant name within the new build development market. We have experience of growing businesses to sizable levels, of being a leading supplier to customers of all sizes.
I see Stolz as being the aspirational partner for developers to work with, leaders in innovation, and truly believe we will be the supplier of choice. We are very grateful to the customers who have already shown such belief in us, my team is delivering to their expectations, and that is the fundamental basis of a successful kitchen business.
Stolz means something in German, in five years' time it will mean something in English too!"