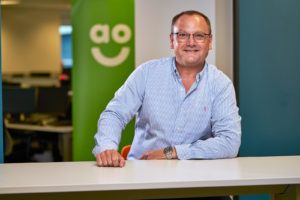 Protecting the environment, one step at a time with AO Business
Showhome editor speaks to Anthony Sant, Managing Director of AO Business about how new government legislation will impact the industry  
What makes AO Business a market leader? 
We sum up why we are market leader with a simple explanation. Though, I might add, that simple is hard to achieve – we've reached this point through 20 years of being relentless to create a unique proposition. At AO Business we provide the same product and charge the same price as our competitors, but we are different because we have the best stock availability, the best customer service and the best delivery and recycling proposition. To put that in context we have rapidly increased our storage capacity to 1.4 million sqft in the past year, meaning we can stock more of the appliances that developers and housebuilders may need. Our customer service is based around the simple philosophy of treating our customers like our gran, which needs no further explanation. Finally, both our delivery and recycling services are in-house, so we can provide a hassle-free service from start to finish.   
AO Business customers can have confidence that the right appliances will be available when they need them, and we are very well positioned to provide a solution to the everyday challenges that housebuilders face. Businesses are already welcoming the AO approach in this sector as it continues to bring convenience, reliability and gold standard service to new customers. 
The Government is looking at bringing in new rules about how old kitchen appliances are disposed of to protect the environment. Could you expand on what we may expect? 
The pandemic has left no business untouched. The levels of disruption impacted on businesses was unimaginable 18 months ago. No one had a chance to prepare for such major changes to the way their business operated on a day-to-day basis. While dealing with the pandemic has dominated business operations, we can't lose sight of upcoming environmental changes which will impact on any business dealing with electrical appliances. 
The exact timescales have not been confirmed, but within the next few years, it's likely kitchen retailers and suppliers will have to take more responsibility for collecting and safely disposing for recycling of any electrical appliance removed from a home when fitting new appliances as part of a kitchen installation.  The aim by government is to shift responsibility for recycling in order to increase the number of old appliances that are recycled in the UK. 
At AO we have worked with rules and regulations around recycling for many years now. In recent years the government has certainly been clear that it wants to improve the levels and quality of recycling. These changes form an important of its environmental plan for the country. 
While we understand the potential changes due to our direct experience, they are not widely known or understood in, for example, the kitchen installer sector. Many small retailers, suppliers and installers will be unaware of how they could be affected in the future – and more importantly what they should be doing to prepare for change. 
The kitchen sector looks set to be faced with several environmental legislative changes and regulations. What do these potential changes look like? 
The kitchen sector needs to be made aware of environmental changes to regulations and legislation being introduced over the next two to three years – known as Extended Producer Responsibility. Under these changes the Government wants to increase the recycling levels of old kitchen appliances and cut the number of appliances being illegally disposed of. First you need to understand that, if a fridge is not recycled correctly, harmful gases escape into the environment. Regulations for managing how old appliances are recycled are not new. They have been in place now for more than 15 years. 
But with these potential changes to regulations, we could see the responsibility placed on kitchen retailers to collect for recycling any old appliances removed during the installation process. This will mean old appliances can no longer be left for removal by the homeowners, local authorities or third parties. They will have to be collected for recycling at an approved recycling plant.  
Through working with kitchen retailers, we know old appliances removed are often left in skips on driveways, and they then become the target for unscrupulous scrap metal dealers.  The reasons they target them is that there is value in old appliances. However, the metal and plastics must be removed responsibly, or the environment suffers. This can only be carried out by regulated recycling plants. 
Preparation will be key to adapting to these potential changes. It is worth remembering these changes are not unique to this sector. All suppliers of electrical appliances, big and small, will have to take more responsibility for recycling. In fact, the principle of extended producer responsibility will in time impact on many sectors, from the recycling of mattresses to car tyres. 
What experience does AO have of working within environmental regulations and rules? 
Prior to joining AO business, I worked in the recycling sector for more than a decade and have worked first-hand with the existing rules and legislation that govern how old electrical appliances are recycled. This has given me invaluable insight and put me in the unique position of selling a product and then recycling it at end of life. AO operates in line with the existing rules and regulations laid down by Government for dealing with the problem of recycling old appliances. As a responsible retailer, we collect the old appliances from customers when delivering a new one through our own logistics network. However, we are unusual in that four years ago we opened our own fridge and large appliance recycling plant. There was a straightforward reason for making this move. We knew the majority of existing plants in the UK were not operating up to the correct standard, so we created a plant that met legislative and regulatory requirements.  
For us, it has been about doing the right thing and, through responsible recycling, we have now recycled around two million fridges. As I have already said the changes will also impact us, in particular the way we collect and recycle old appliances. However, our experience and understandings mean we are not doing this from a standing start and have been preparing for the anticipated changes for several years.  We are now using every opportunity to work with our business customers in different sectors to explain what the changes could mean them for and suggest how they should be preparing  
What are the next steps? 
The Government is set to carry out a consultation about the changes later this year. The pandemic has delayed the consultation process, but we expect it to start this autumn. The purpose of the consultation is for the government to explain what it is considering and then ask for input around implementation. This means the exact changes have not been finalised, but the Government has been very clear in its intentions. It is really important that any business potentially impacted gives due consideration to the consultation when it goes lives.  
How will sustainability and an environmentally conscious consumer/buyer impact the industry? 
There is no doubt that consumers are becoming more environmentally conscious, and they want to see products that are more sustainable. What do we mean by this? Consumers want appliances that are energy efficient, long-lasting and cost effective.  Like all businesses, we are striving to work in a more sustainable manner and, at the same time, support our customers to live more sustainable lives. We are investing to ensure that we operate more sustainably and AO Business has several initiatives in place to support its customers in meeting new environmental expectations for homes. For example, housebuilders can benefit from AO's quick and easy Collect & Recycle service.  Of course, we have AO Recycling in Telford, recycling around a fifth of fridges thrown away in the UK every year. Working alongside is our second plant refining the plastic into reusable material. We are currently working with manufacturers to put the plastics back into the new fridges from the old ones, truly embracing the circular economy we all hear so much about. 
Why is smart technology gaining traction with the consumer? 
There is no doubt that the pandemic has accelerated the shift in consumer demand for smart technology, especially as the boundaries between home and workplace have become blurred. Consumers want life to be easier and smart technology can enable this. Even with some return to the workplace people will continue to spend more time in their homes and this means they want to have a practical space. For example, we have seen how kitchen appliances have become multi-functional, to meet both home and office needs – as well as being quiet so as not to disrupt everyday life. Whether it is operating your washing machine via an app or switching your heating on with your smartphone, smart technology will continue to move up consumers' wish lists.  
To stay up to date on the latest, trends, innovations, people news and company updates within the UK property and housebuilding market please register to receive our newsletter here.
Media contact
Rebecca Morpeth Spayne,
Editor, Showhome Magazine
Tel: +44 (0) 1622 823 922
Email: editor@yourshow-home.com