Sam Crozier, Managing Director of CP Creative, speaks to Showhome about the company's rapid progression since formation in 2010, and what makes them special in the current marketplace.
What is it about CP Creative's property marketing that makes them so unique?
Our broad range of skills and creative services are key to our unique company. This makes us an essential partner to our clients.
Our flexibility means with just one phone call or email, we can produce anything from interior photography & floorplans, to videos, CGIs, as well as design & print projects, and much more.
This in turn makes life a lot easier for our clients logistically, freeing up their time whilst cutting costs. Instead of dealing with numerous different companies for each marketing element, we can take care of all the elements of property marketing.
You operate with a small, handpicked team. Are you hoping to have a bigger team in place, or do you feel this operation works as it is?
We launched in 2010 with just two employees and now have a team of in-house photographers, floor-planners, designers, CAD operators, quality controllers and account managers.
Whilst we have grown we have ensured that we always have the capacity to offer our clients a high level of personal service to meet their varied needs.
For any small business, it is essential to live within our means, but without a doubt our desire is to keep expanding the company, and adding more talented individuals to our team.
What are the key services that you offer?
Having started out in 2001 as an interior photographer in London, I soon realised that the emergence of the internet and online marketing meant there was a demand for a company that could offer several property marketing services under one roof.
Initially, property photography and floor-planning were the core product/services, but in 2010, CP Creative was formed to bring a number of services together.
Whilst photography is still a vital part of the Company, launching new services such as CGI production, design, and video has opened up a new market, and we are delighted to work with estate agents, house builders, developers and architects throughout the UK.
CP Creative also has a sister company called Leaseplanners, who specialise in producing land registry compliant lease plans and title plans for the property market.
Being innovative and taking the initiative are things you strongly focus on, but how is this achieved?
We have a team of multi skilled creative staff under one roof. This means that the company is overflowing with creativity and fresh ideas which benefit our clients.
The creative industry and the property market are so fast moving, it is important that we too keep alert and search for ways to improve what we do and how we do it. All the while whilst keeping abreast of new technologies which are developing all the time.
In April 2017, we launched a bespoke & exclusive software called CP-Central. This has been hugely successful and has streamlined our service from start to finish.
Developing the software required a lot of blood, sweat and tears (and funding), but it was worthwhile in the end.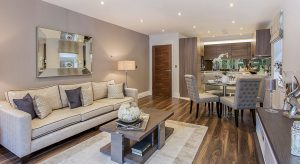 You say photography and floor plans can be done within 24 hours, but is that enough time to make sure they are the best they can be?
Absolutely. There is a fine balance between quality and turnaround time, but it's imperative that the fast service we offer does not jeopardise the high standards our clients expect.
Over the years, we have developed an infrastructure and the processes required to fit in with the fast-moving nature of the London property market.
This ensures all our work is produced to a high standard and it goes through a two-stage quality control procedure before being delivered to our clients.
A quality customer service is fundamental to our company and underpins everything we do, besides ensuring our end product is high quality we always focus on offering an efficient and friendly services as well.
Has there been a particular project you've dealt with that brings you a great deal of pride?
To be honest, all of our work brings us a great deal of pride. I love the fact that many of our clients have worked with us everyday for many years, which is a testament to the team we have here, and the quality of our service.
Building strong long-term partnerships with our clients is a key part of our business model and allows us to gain a clear understanding of our customers and their requirements.
In terms of projects, I'm very proud of the ongoing work with do with Berkeley Homes and BPHA, as well as estate agents Winkworth and Portico, who are all fantastic companies to work with.
The work we do and the people we work with are very varied, which makes every project special.
Each day we photograph & floorplan up to 30 properties, while working on projects with national house builders, small scale developers or private individuals, who simply want to market a rental property.
Your CGI images can easily be passed off as real – how is this made possible?
A great attention to detail is the most important aspect to make CGIs as realistic as possible.
CGI production is a time consuming process, so it's important to understand what is required from the offset.
This means obtaining material schedules, finishing schedules and establishing the interior design of the property. Even furniture can be customised to suit a client's needs.
Of course, the technical skill of our CGI designers is also extremely important, and makes everything possible.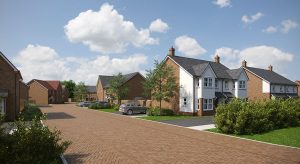 When it comes to rates, just how competitive are you?
All our pricing is set at a competitive and sustainable level that allows us to provide a high quality and affordable service for our clients.
As mentioned previously, our aim is to work with our clients on a regular, long-term basis so sustainable pricing is key for everyone.
In the current climate, any company that is not competitively priced, simply will not survive.
You have an office in London, and a head office in Suffolk – are there plans to expand further?
Currently, our offices are strategically located to allow us to service our clients throughout London and the South East.
Our London office is in the creative hub of Shoreditch, and is shared by many like-minded companies, whilst our head office in only an hour away on the train in Suffolk.
Whilst currently our standard photography and floorplan service is limited to Greater London, we do regularly carry out special projects for developments throughout the UK, as these are not prohibited by our location.
Certainly we aim to expand our services further afield, we do not limit ourselves to any location or region. We would be happy to work with any companies around the UK who are interested in our property marketing services.