Gabriella Fryer, Head of Marketing at Montpellier Domestic Appliances, explains to Showhome how the fairly new company can make your kitchen look great in every single aspect.
How can a Montpellier appliances make a good kitchen into a great one?
The way we select a kitchen for our homes has evolved over recent years. With so much choice now in the market in terms of kitchen styling, the modern-day home owner is far more savvy and aware when it comes to what they choose front of house, and behind the door. With all of this choice for stylish aesthetics, where do appliances fit in?
Choosing appliances is fast becoming as big a part of the design process as choosing cabinet, tile, and lighting designs. For many, appliances such as fridge freezers and wine coolers will remain freestanding. With that, there is a demand for statement pieces that seamlessly blend into the design of the kitchen and add that 'wow' factor. Appliances are now required to not only offer years of reliable functionality, but also be a stylish and timeless part of the kitchen design as a whole.
This also applies behind the door. We have seen the rise in built-in appliances go from strength to strength. With kitchens designed to flow, other appliances such as dishwashers and ovens can often be seen to break that up and so integrated appliances are the perfect choice.
At Montpellier, we include all of this knowledge in our design process. That's why our integrated appliances not only offer reliability and durability, but take into account the need for style, even behind the door. We offer built-in refrigerators that have chrome shelf trims, soft LED fading lighting as well as all of the technology you would expect and exceptional energy efficiency. Integrated dishwashers offer adjustable racking, a variety of programs and many have InfoLED that shines a light onto your worktop to show you the status of the cycle during the wash. Ovens will all come with TruFan technology and some models have built-in auto-cook recipes and programmes.
We know that brilliant functionality, durability and reliability are an expectation from appliances. That's a given. Our appliances, whether integrated or freestanding, see style and design as being as important as function. With a range of over 200 products, we have an appliance to suit every kitchen, style and budget.
How much time and effort goes into your research department for new products?
We are an independent British family company with over 60 years combined experience in the white goods business.
We work with some of the most respected factories all over the world to source, develop and design the best products both in terms of mechanical and aesthetic design. We are flexible enough to take feedback we receive from both consumer and retail partners to improve products and introduce new technologies to the market.
Your retro collection is very impressive, how is that faring thus far?
Old isn't always outdated. 'Retro' looks have stood the test of time and don't seem to be losing any appeal. If anything, the demand is growing.
Some brands have created a business model out of this and continue to see huge success through their retro offering. They are aspirational products because the 'Retro' look has historically, always come with a large price tag.
With such demand, there has been a need for retro products offering the same technologies and stylish appeal but at a more economical price.
Our first retro product; MAB340 refrigerator was launched in 2014 in cream, black and red. Since then, with its continual popularity, we have introduced a suite of retro products including our soon to be launched retro dishwashers and new colour-ways.
These products are designed to be the focal point of a kitchen, to offer the style of the past with the technologies of the future and to be accessible to all budgets and people.
Why shouldn't everyone be able to have a retro statement piece in their home? We understand the differing home-owner demographics, needs, size of home and budget. All of this is incorporated into our R&D when creating products and so we offer different sizes, splits and price points. We don't believe style should be dictated by budget. We create stylish products that are accessible to all.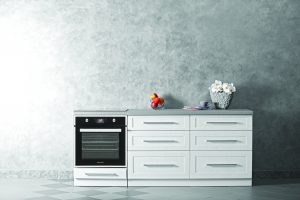 Do you think being an independent British brand gives you an edge over your competitors?
There is a knowledge and acceptance that the majority of white goods are manufactured globally, within factories that are the experts in building the highest quality product. That trust in global manufacturing expertise is there within consumers minds. Frustrations seem to come to the forefront when companies aren't based in Britain on the rare occasions there is a problem with a product. Regardless of whether appliances are bought online or in a big retailer, we still all want that 'local shop' feel and service when we have a problem. That is why our British origins are so important, because regardless of where you are in the UK, so are we.
Our nationwide servicing team are here. All over the country 7-days a week. As consumers at all levels, we know how frustrating it can be to be passed through telephone systems from department to department to a faceless voice who may or may not know the answer to your question.
We don't profess to always have the answer, but we can assure our customers that we are here, in Britain. The person you speak to will be a key part of the team, our lorries will be on the motorway that runs adjacent to our Head Office and our nationwide servicing team are down the road.
Despite specialising in a host of kitchen appliances, what one would you say gets the most focus and attention?
With statement pieces like Retro's in the range, it's no wonder we have become well known for these appliances. They are stand-out in their styling, colour and price point. Further to that, we've seen the most popularity within our freestanding refrigeration range. This includes top of the range fridge freezers such as the MFF4X.
The MFF4X is a french door frost free fridge freezer with electronic touch controls in stainless steel. It offers all of the functionality and feel of a classic side-by-side but in a slim offering if space is at a premium. Open the two fridge doors and you'll be amazed with the space. It's been designed with sensible storage throughout, everything you need and nothing you don't. The shelves all have metal trim for strength and style, and the door storage is perfect for any bottles, jars or awkward items.
It has a digital touch panel on the front to give you easy control of the temperature and settings and is not only quiet, but energy efficient at A+ energy rating. Below, the two large 4* freezer drawers are far more accessible than traditional offerings and make the most of every bit of space available.
This product is premium in every way and will be a stand-out statement piece in any setting. It is part of a suite of products exclusive to our Priority Partner Programme. For more information, please contact: 03333 234 473.
You offer a two-year-guarantee with your products, do you feel this brings a significant amount of trust?
We are a relatively new brand in the eyes of the consumer and so a guarantee that offers peace of mind is all part of the offering.
We offer 2 Year Guarantee's across all of our products and 5 years on built-in refrigeration. Some may say that a 2 Year Guarantee is basic and standard. But a truly great and effective guarantee goes beyond just offering a replacement or refund. A great guarantee can counter potential objections, reduce buyer risk, dissolve disbelief, and instill buyer confidence and trust in a company.
In today's busy world, we want our appliance owners to be able to simply fit and forget. Our guarantee's are there to instill that confidence, and should you need us in the rare case of a problem, we will be there.
What in particular do you put down to your new company making such a huge dent in the industry?
In our infancy, we were often told that there wasn't room in the market for another white goods brand, that customers knew the brands they liked and didn't want anything new. Always keen for a challenge, we quietly ploughed on expanding our range and building relationships with retailers.
We formed a solid and loyal customer base and invested our time in supporting those independent retailers to promote our products. Those retailers have helped to educate the market and make consumers aware of who we are. With this solid foundation, we have grown and expanded into national retailers and have secured ourselves as a credible, reputable and desirable appliance brand.
Our products are now displayed side-by-side on shop floors alongside historical brands and have earnt their place there.
It is a crowded market place, there are a lot of brands offering a lot of choice for consumers. But we know that consumers do want choice. They want a choice of style, size, and features. We are here to give consumers another choice, one which isn't always decided by price. We don't let style be compromised by budget.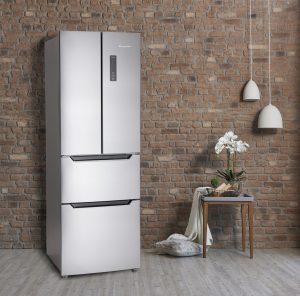 Is there a specific product you're most proud of?
This summer, we are launching a new colour-way into our popular mini Retro MAB2030 range, the MAB2030PB. This is in affiliation with Prostate Cancer UK, and comes in Pure Blue in support of their fantastic cause. For every one sold, Montpellier will donate £3 from that sale to Prostate Cancer UK.
We chose to support this incredible charity so that we could give something back. This one in particular was close to our hearts as a member of our team had recently battled and beaten this disease. This particular product was chosen because of its quirky appeal, and we wanted to create a product that had the potential to generate the largest amount of donations for the cause and act daily as a reminder to the consumer of what an incredible charity their £3 has gone towards.
Are there any new products you can tell us about?
Summer 2018 is going to be an exciting season for us with a lot of change. We will be launching not only a new laundry range, but a completely new built-in cooking platform. This range comprises of 6 single ovens, all of which contain TruFanTMtechnology. TruFanTMovens circulate warm air created by the bake and broil elements evenly around the oven.
This helps the oven to stick to a constant temperature which results in food being cooked quicker and more evenly. One of these new products is the SFOS78MBX. This is a 75Ltr single oven with twist and press controls, 10 functions, a turn-spit and auto-cook programmes which, when set, will automatically heat the oven to the correct temperature and for the specified amount of time to create the selected meal.
With a steam-clean function and catalytic lining, this oven is designed to make your life quicker and easier whilst delivering delicious cooking results. Sleek and stylish in their design, they will be a seamless addition to any home.
Looking ahead to the future, and what do the coming years have in store for Montpellier Appliances?
Since our inception in 2012, we have paved our way into the market with a quality and desirable offering. We are committed to continuing to provide consumers with quality products that make life not only easier, but better.
Style and technological innovation is at the forefront of everything we do and we will continue to evolve to create the best possible products that not only grow with technology, but also with you.