Steve Errington, CEO of Story Homes, tells Showhome's Chris Beck about how the momentum in the house-building industry is being felt in the North of England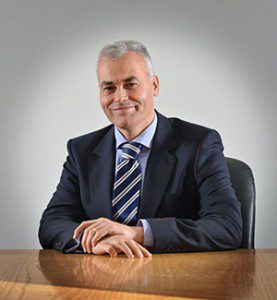 Tell us about Story Homes
Story Homes is a family-owned business that has been building and selling homes for 28 years. We are based in Carlisle, and until recently were primarily focused on the Cumbrian market. We have been seeing significant growth over the past three or so years, and we have significant plans going forward. We are growing around a model of providing a premium product – a volume one, but also a premium one. We are focused on design and specification quality, with a large focus on desirable streetscapes. We sell at a premium to some of our competitors, but on a larger scale of development. Typically on one development we would be looking at being 150 square feet bigger per house than an average Taylor Wimpey or Persimmon development. Our average product would be about 1250-1300 square feet for a four-bed detached home. We are further up the value chain than your typical house builder.
We were building somewhere between 100 and 150 homes a year until the end of March 2013. This year, we are on track to deliver 550-600. Our business has expanded into three more regions – Lancashire, Scotland and the North-East of England. We have significant plans for further expansion: We are aiming for 800 homes next year and 900-1000 the year after, with further plans to spread into Cheshire and Yorkshire.
Our North-East region, based in Newcastle, has just celebrated 12 months in operation, and we've just appointed a Managing Director from Taylor Wimpey to look after that business. We have also very recently signed a lease to run operations in a new North-West office, again with a new regional MD. We have been recruiting around 50-60 people a year for the past couple of years.
We often hear how well the housing market is doing in the UK, and that a lot of that growth is driven by London and the South-East. Is the North faring well too?
It's not quite as frothy as the major markets in the South, but we have certainly seen a major recovery in terms of sales rates, volumes and prices. It is very regional – certain places are growing a lot faster than others, but overall the nationwide story is repeated up here.
Do you think more needs to be done to encourage the Northern building industry?
We have seen the National Planning Policy Framework (NPPF) implemented with an emphasis on having a proper housing means assessment test and a robust five-year supply. That has helped, and we are certainly getting more sites through the planning permission stage. The difficulties we are finding aren't so much in getting planning permission – although that can still be a struggle at times – but in getting started on site. Local authorities and planning departments are still often reluctant to discharge planning conditions. Getting approval, and getting the work done, from utilities companies is a common problem, and we are still having problems with the supply chain in terms of getting good-quality sub-contractors. The supply chain is very tight across most of our markets. Once we have a spade in the ground and a good sales team in place, the hardest work is done.
An extra challenge we have, due to our rapid growth into new regions and our position as a premium house builder, is finding suppliers and sub-contractors who can meet our expectations. We have to be careful about who we appoint, especially now that we have to go out and find new ones as we expand into new areas.
House-building isn't an industry you can afford trial and error, either!
Absolutely! In Cumbria, we have a 28-year reputation for building quality homes. I need to get the same reputation and brand awareness in the rest of the country in 28 days, as we're moving into some very competitive environments against some very well-established house builders. We cannot afford to produce poor quality homes on our sites further down the country, as we don't have that reservoir of reputation to rely on.
Do you think there is also a need for more affordable homes?
There is a massive lack of annual supply across the country, which is making an already large cumulative deficit even bigger across most regions. We are only building, as an industry, about half of the homes that are needed. In England, we are building about 130,000 homes a year, with a need for at least 240,000.
Affordability is based on simple supply-and-demand: If the houses aren't being built, and people keep wanting them, prices will go up. That's exactly what we're seeing now. I do think, though, that there are certain things relating to affordable homes that are encouraging. For example, the Help to Buy equity scheme has been extended until 2020. This has enabled first-time buyers in particular to get on the property ladder with a 5% deposit. The deposit is the key problem facing many people nowadays, especially in the South. Help to Buy has been a big step forward to addressing that, and it's great to get the extension confirmed so early on into the new parliament. That gives us, as an industry, confidence to start supplying homes knowing that the demand will be there. The second key piece of legislation is the Starter Home Initiative, which is also welcome. I don't think it will revolutionise first-time-buyer affordability, but it will certainly help.
Finally is the aspect of the mortgage products now on offer. There has been talk of interest rate increases in the first half of 2016 – although the problems in China may push that back a bit – but nobody has spoken about the rates going up quickly. Mortgages now are probably the most affordable for a generation in terms of interest rate charges coming through on mortgages. There are really competitive rates that encourage people to buy. There are two aspects to consider for first-time-buyers. Firstly, there are obviously the monthly costs of a mortgage, which are very keen in terms of the low interests rates. Secondly, there is the question of a deposit, which the Help to Buy scheme has been really helpful in encouraging. That in turn picks up the whole industry and encourages us, the house builders to get building more homes.
Help to Buy and other schemes are playing their part, but do you think there is more the Government could do to help the industry?
There are two key things here. Firstly, we have a planning system that has improved thanks to the NPPF but still has delivery issues on the ground that I mentioned earlier. Some of the issues are down to delays that are ingrained in the process, which are very unhelpful. The recently announced Productivity Plan is partly designed to streamline the end-to-end house-building process in terms of planning, and that is welcome, but it's ultimately down to delivery on the ground. To step up towards 200,000 homes a year, which every party was promising in the run-up to the election, there will be a lot more to be done to get the planning system working properly.
The second piece of the jigsaw is around skills. At Story, we have a new apprentice scheme for school leavers and graduate schemes as well. We took on three apprentices this year across the business and we are working with local schools to get placement schemes in place. We are also looking to fund apprenticeship schemes to some of our sub-contractors in areas of the industry that are perhaps under-staffed, such as brick layers, plumbers and electricians. The HBF have a great careers website and they are trying to get the message out there that house-building is a good industry to get involved in for young people. On top of this, the Government announced their drive for apprenticeships in all areas of construction. We haven't seen the detail yet, but anything that encourages a growth in skill areas, both site-based and office-based is very important.
Another advantage to taking in apprentices is that if you grow your own, you can get them ingrained into the culture of the business. You will end up getting people coming through the business that you can train and ultimately get the quality and delivery that you want. Also, to be blunt, if you have a shortage of skills, everyone will bid against each other. If you can train up a lot of skilled workers, it keeps everyone's costs down. Even the biggest house builders are launching schemes for apprentices – some are even training up ex-soldiers. As an industry, we have to take ownership of that. The Government are doing their bit, which is great, but we cannot afford to wait for them to sort it for us.
How do you see the future of the house-building industry, both in the North of England and nationally?
At the moment, we have some pretty benign conditions. We saw a slight dip, as with the rest of the industry, prior to the election, but we have had a very strong summer period when we'd normally see a drop-off. I think there has been a post-election bounce, to some extent. There's been a real upturn across the whole economy, which is great because it means people are more willing to take on bigger mortgages and moving up the housing ladder. Job creation is strong, and we have low unemployment. Low interest rates look set to continue for the foreseeable future, and all of this is the sign of a strong economy.
With house-building being a very cyclical industry, we are dependent on a prosperous economy. For the next four to five years, touch wood, there will be some reasonably favourable conditions. We don't want raging house price inflation, we just want steady growth. We have quite big ambitions at Story, and ultimately want to become a national house builder. We're investing heavily in land, so, for me, being in a stable business environment is better than seeing double-digit price inflation one year and then a slump the next. We have another few years yet of being on the right side of the economic cycle, but as an industry we have to make sure to plan ahead for the inevitable change in that cycle. Boom and bust is bad – intelligent investment at the right point is much better. It's all about avoiding the excesses of the boom and the problems of the bust.