Available from July 2019, Swedish wood burning stove manufacturer, Contura, launches a brand-new stove and upgraded and enhanced ranges for the AW1920 season, making moments in front of the fire cosier and more fuss-free.
Contura i61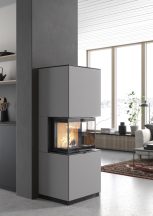 Timeless Scandinavian elegance to thrill and amaze. The Contura i61 is ideal for both contemporary and traditional interiors. The design is based on our popular i50 range, but has a sleeker, more compact format – ideal for those with smaller spaces but still looking for a statement stove.
With optimal fire viewing from all angles, the i61 also features a smooth lift door which conveniently slides up into the top chassis of the stove for easy access when reloading or cleaning.
The Contura i61 was designed in association with the Myra design agency.
Contura 800 Style
The popular Contura 800 range has been upgraded for the AW 19/20 season with an updated, even more elegant design and, in line with other Contura ranges, a new name: Contura 800 Style.
Taller and wider glass panes, side panels with fewer joins and more colour options are just some of the design upgrades. Innovative functions like an autostarter for fast fire-lighting, a booster to revive embers, and a silently sliding ash pan make making and tending a fire so much easier.
Contura 500 Style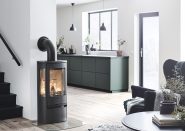 Following in the footsteps of its big brother, the 600 Style range, the popular stoves in the Contura 500 Style collection now include a number of smart features.
Autostart for fast lighting, a new material for handles and damper knob that does not get hot when the stove heats up, a boost function to bring embers back to life, and a quiet-slide ash pan are just some of the new features
Many details of the stove's popular design have been enhanced to give an even higher quality finish; a new cast-iron and glass door complete with large side lights that show more of the fire, longer handles, improved door stop mechanism that holds the door safely open when you are working on the fire or cleaning your stove, and a new combustion damper design.
The Contura 500 Style is a stand-out choice if you appreciate an elegant, attractive, stylish stove.
Contura stoves are stylish yet practical and range from contemporary freestanding models to more traditional insert stoves, ensuring choice for every need and style of home.
Phil Wood UK Country Manager at Contura says "A wood burning stove is not only a stylish addition to any home, but it offers a more efficient and sustainable heating solution to a traditional fireplace or central heating, which in turn helps to cut energy bills."
All Contura stoves offer style combined with outstanding performance, maximum efficiency, practicality and ease of use. With 80% heating efficiency compared to only 20% of traditional fireplaces, and thanks to a 3-9kW heat output, Contura stoves can heat spaces of up to 120m² with ease. Further benefits include powerful convection and clean burning systems, ensuring less wood is used, which works to save the environment as well as customers' money.
95 percent of Contura stoves are Defra Clean Air Act exempt, which means they are approved for use in Smoke Control Areas, and all are Ecodesign Ready; reducing emissions by up to 90 percent compared to a traditional open fire.
For more information, visit www.contura.eu