With lockdown enforcing people to remain at home, people are spending more time relaxing and nurturing their mental health in their bathrooms, and design is assisting
We want our bathrooms to be smart, luxurious and, above all, places where we can retreat to, relax and find time for ourselves. Covid-19 has placed society firmly in lockdown, or socially distanced for almost a year. This has caused a change in lifestyle and consumer demands and trends in the bathroom, wetroom and shower industry. Spending more time at home has meant that people have had to take greater care of their mental health and ease of living, placing calming colours, smart technology and spa-like luxury design into the forefront of design. 
It's hardly a surprise after the year that was 2020 that bathroom trends into 2021 are very much headed up by the trend for home spas. From scented candles to luxury fittings, there is a host of ways to create your very own spa retreat, Bathrooms can now be so much more than purely functional spaces. More customers want to create an oasis of wellbeing at the heart of their home – somewhere that they can enjoy as a private retreat to de-stress and unwind. During lockdown children have been home schooled, parents are remote working and the house has become a hubbub of activity. Although this is helping reconnect the family unit, it also puts strain on relationships, and humans crave privacy and space. Therefore tranquility and privacy in the bathroom when relaxing after a busy day is crucial in design. 
Bathrooms can create a mood that require simple moments that make us pause, such as the ritual of lighting a scented candle or wrapping ourselves in a warm robe or hot bath. Or it can be fully enjoyed with fittings that offer spa-like experiences, such as massaging showers, hydrotherapy baths and state-of-the-art steam rooms and saunas. Something as simple as a waterfall shower head feature, or jets have gained popularity. 
Bathrooms are now less confined to clinical white colour schemes, polished ceramic and a clean contemporary feel. Instead people are becoming more confident about going busy and bold in bathroom and powder rooms, creating a more luxurious aesthetic. In addition to luxury tiles and spa-like nooks for storage, Biophillia – the integration and inclusion of nature as a focal point – isn't going anywhere. The goal of creating a rich, sensory connotation with nature is still growing in popularity. 
A biophilic bathroom design will boast certain patterns that reduce stress and improve creativity while featuring forms and materials that emulate those found in the great outdoors.  
With lockdown and the restrictions of leaving the home, this year will be all about bringing the outside in, creating spa-like sanctuaries with intricate murals and fusing vintage and modernity with stunning installations. Plant life is becoming increasingly poignant on windowsills, free standing shelves and furniture units. Incorporating nature in design aspects such as wallpaper or finish colour helps bring out the calming nature of the plants and connects you with nature.
In cabinetry or plants, this perennial hue can create a life-enhancing link with nature. The huge variety of eye-catching tiles, furniture and bathroom ceramics in verdant shades is providing opportunity for strong new looks.
In soft shades, green evokes a natural sense of calm and harmony, while bolder and darker tones provide individuality and depth. Try walls of saturated color in paint or tiles, or a contemporary vanity unit or countertop basin.
There are extensive ranges of luxurious showers and heads allowing the creation of an indulgent showering experience in your own home. Connection between water and wellbeing has never been easier with waterfall shower heads and walk-in showers to replace bulkier units.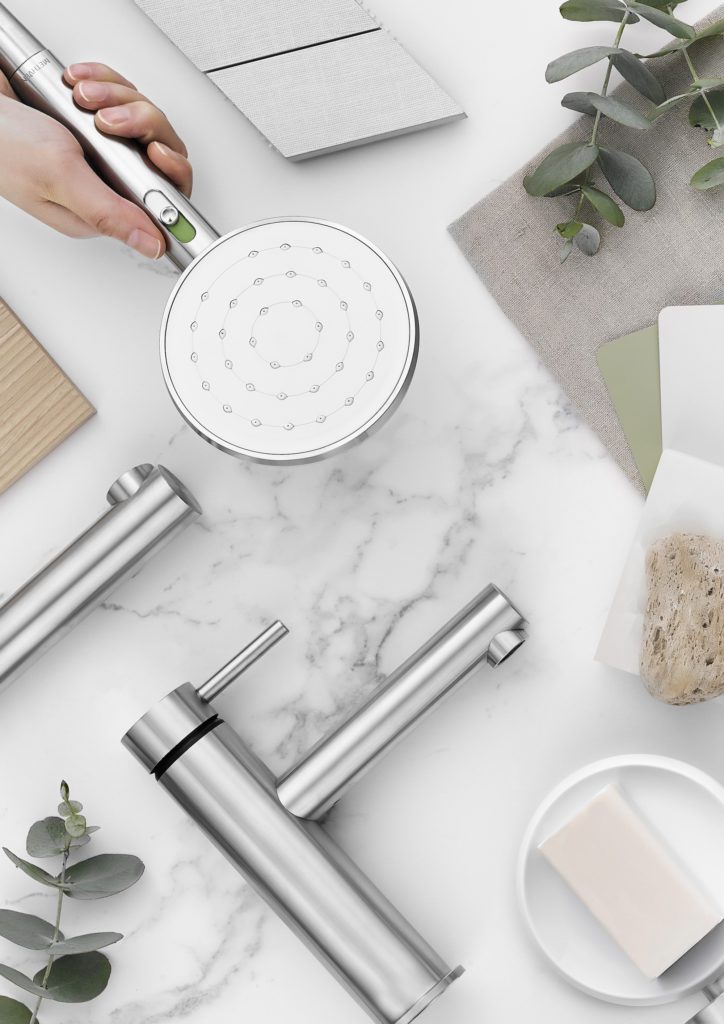 Bathroom wellness
Martin Walker, CEO of Methven exclusively comments for Showhome on what he believes will be taking the market by storm in 2021.
"As homeowners continue to spend a significant proportion of their time indoors in accordance with the latest government lockdown, properties are having to rapidly adapt to meet the new and ever changing requirements presented by this latest way of life.
"As the bathroom is one of the rooms used most frequently throughout the house, particularly for busy families who may now have multiple people at home at the same time, there is a new expectation for the space to not only withstand this increased level of usage, but also offer adults a personal space to focus on their mental wellbeing. 
"For housebuilders looking to create bathrooms that provide potential occupiers with their own space to relax and unwind, the first area that should be considered is the overall performance of the solutions installed, as delivering a first class bathing and showering experience is essential to creating a spa like environment for homeowners. 
"The flexibility of Methven's Satinjet Kaha Handset enables individuals to tailor their showering practices each time by the simple touch of a button, from a full body shower to soothing massage sprays."
Walker continues to describe how Methven are helping calm their customers with new jet technology. "This is achieved through Satinjet's unique twin-jet technology, which creates over 300,000 optimum sized water droplets per second, which are delivered in a gentle and enveloping spray, right through to powerful and invigorating.thing massage sprays.
"The ability for the individual to tailor the spray to their own personal preference, combined with the enhanced level of skin contact and stimulation, creates the optimum environment for relaxation. The technology is also combined with a flow rate of nine litres per minute to deliver the highest levels of energy efficiency, in accordance with Approved Document G.
"For a touch of true luxury, choosing products that deliver this level of performance in on-trend matte black or metallic finishes, including brushed gold, will not only make the bathroom feel like and perform like a first class spa, but look like one, too."
Colour
David Osborne, CEO of Roman discusses how new colour trends can impact the tranquility of a bathroom. 
"Without question the most prominent trend in the bathroom market is colour. There are so many options now for Shower Enclosures in terms of size, shape and entry point or style, that there will definitely be a perfect solution – research and planning are key. The design world is no longer Chrome and plain glass as there is now a plethora of choice in taps, shower valves and enclosures with Matt Black being particularly on trend.
"Plain glass options are still proving to be a popular choice with consumers but this is changing quite dramatically. Fluted Glass and Crittall-style shower enclosures are stunning options in adding value and there are plenty of stylish accessories, baskets and shower blades to choose from which make the perfect finishing touches. At Roman, we have just introduced a fifth colour option, Brushed Brass, across our Liberty range – and also launched a new Matt White sixth option for our Liberty Wetroom Panels in January. We are investing significantly in product development, new ranges, colour options and some amazing new mechanisms such as soft close sliders and hinged doors.

"Whilst our anti-slip solid surface trays carry a premium over standard shower trays, they deliver a massive enhancement in performance. The matt solid surface finish is very on trend and looks extremely of the moment, but the real benefit is you can't move your foot unless you lift it when showering – naturally making it a safer option for all user groups and abilities. Cleanability and hygiene are historically probably the most undersold and overlooked buying criteria in bathroom products, however consumers are now prioritising hygiene when shopping for bathroom products. All Roman products are coated with Roman Ultra Care which seals the glass for long-term optical clarity and also offers easy cleaning to keep regular housekeeping simple."
Transforming an interior space into a seamless experience to create a more satisfying usage is key over the next twelve months. As homeowners, we tend to use our bathrooms at least twice a day, studies have shown that the average female spends at least 29 minutes in this space each day so it's become a necessity to ensure that bathroom design delivers an at-home spa-like atmosphere so we can linger for longer.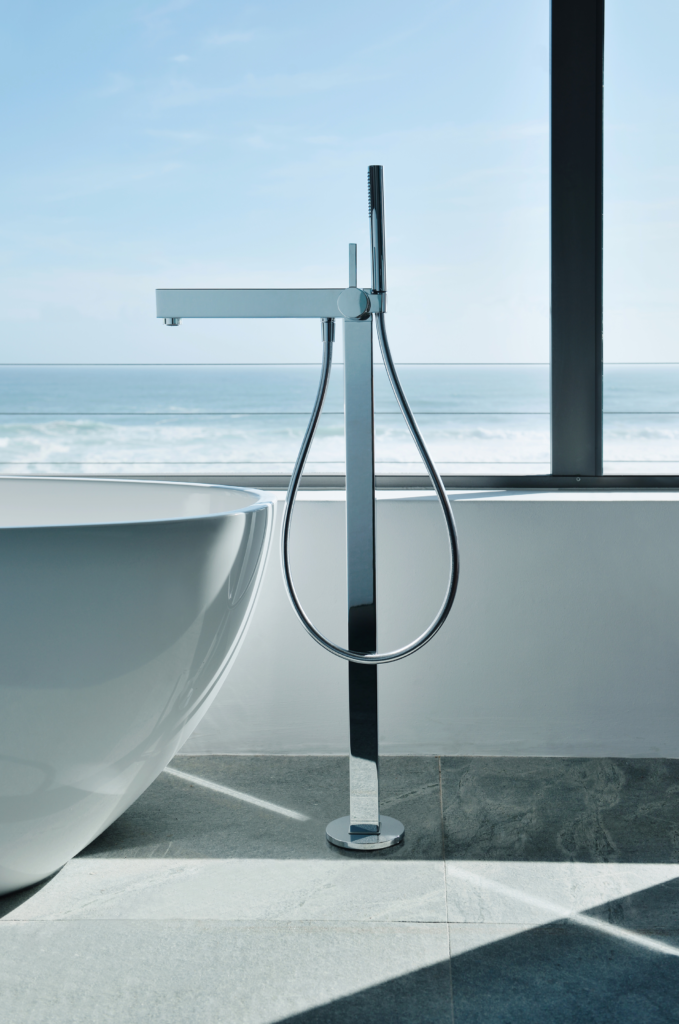 KEUCO
KEUCO's EDITION 90. The visual statement of the design is consistently "square on round" with precise contours and brilliant chrome surfaces.  The range of fittings includes a single-lever mixer for the washbasin, a wall spout fitting and a three-hole basin mixer, plus in-wall thermostat solutions for up to three users for shower and bathtub.
Ann Boardman, Head of Marketing and Product Development, Saniflo
There's no doubt that the events of 2020 took us by complete surprise and, like many other businesses, we reacted by furloughing some of our team and calling a halt to face to face sales visits. Bathroom showrooms were closed which shut off one of the main sales channels for our range of Kinedo shower products, and most merchants were operating with a limited number of branches. 
The timing was unfortunate as we had just wrapped up a successful KBB exhibition in early March 2020 where we showcased our brand-new Kinemoon shower tray and Brooklyn shower cubicle to great fanfare and had commitments to displays from many retailers and merchant showrooms. It was just a week later that the country was put into lockdown and all the good work was temporarily suspended. The subsequent opening up and shutting down of the bathroom retail sector and on-going Covid precautions has made it difficult to take advantage of the early interest, but we are heartened by the resilience of the sector. According to Trend Monitor 80% of projects were put on hold. Over half of these were supplier or contractor issues but this has created a pent-up demand. We started to see a recovery at the back end of the year and we are confident that we will fulfil displays and sales of our newest products during 2021. 
The Brooklyn cubicle is ideal for the small developer looking for exceptional quality and a leak-free shower solution. Designed to meet the demand for the industrial trend it is available in black and grey and is supplied as a complete all-in-one shower package. 
Sophie Weston, Channel Marketing Manager at Geberit
The home has never been so important. We've been spending more time than ever within our own four walls, so it's essential that the home provides more than just a place to live. It should bring joy, peace, comfort and shelter from the stresses of the outside world. 
Understandably, hygiene in the home has been a growing priority for many homeowners – particularly in the bathroom – and changing households, such as the rise in multi-generational living, have already helped fuel growth in demand for hygienically-optimised solutions.
Making the bathroom more touchless will, naturally, be something we see increasingly more of and touchless technology, such as sensor activated flush plates like the Geberit Sigma80 which drastically reduce the transfer of germs by activating the flush with a user detection sensor, could see huge growth. 
We predict, too, a shift towards buyers looking for design features like handle-free furniture and sensor activated lighting on cabinets, helping reduce unnecessary surface contact as much as possible. And there are many products and innovations that simplify cleaning and, rather crucially, reinforce the perception of a clean space. This can be achieved through wall-hung sanitaryware, for instance, which creates a streamlined look to the bathroom and makes cleaning easier.
As well as hygiene, another factor on the minds of many homebuyers will be wellbeing. It's long been known that nature has an intrinsic link to our health and wellbeing. But with more of us actively seeking the benefits of the great outdoors, biophilic design is set to be huge in the home this year. 
In the bathroom, this means natural materials like wood, slate and stone over high-gloss for furniture and cabinets. Geberit offers many furniture options with wooden finishes, including Smyle, Selnova Square, Citterio and ONE, which are available in rich Dark Oak, Hickory Wood and Walnut finishes to bring warmth and comfort to the space, while providing durable and practical storage solutions.
To stay up to date on the latest, trends, innovations, people news and company updates within the UK property and housebuilding market please register to receive our newsletter here.
Media contact
Rebecca Morpeth Spayne,
Editor, Showhome Magazine
Tel: +44 (0) 1622 823 922
Email: editor@yourshow-home.com