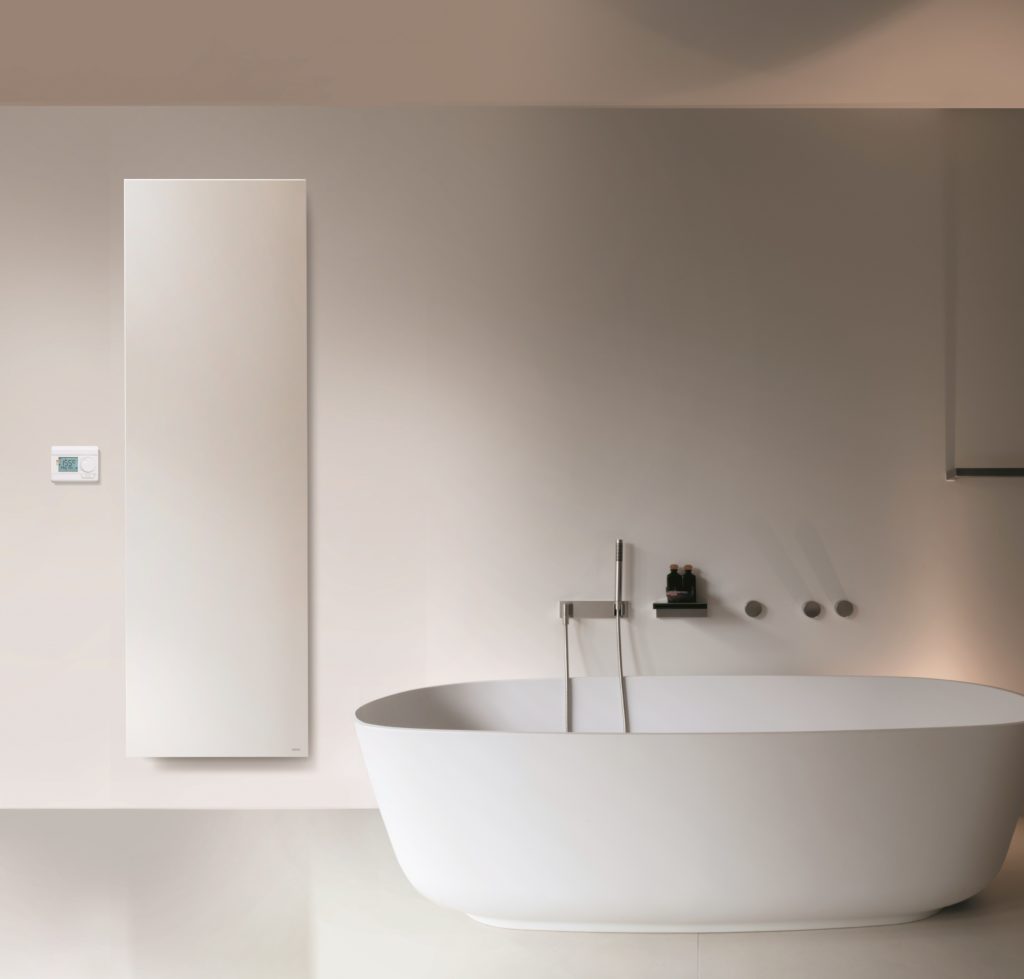 Electric radiators are the perfect partner for new 'green' builds and renovations; especially when combined with the installation of ground source heat pumps or solar panels. VASCO is expanding its range of electric heating solutions, to include an updated Wi-Fi-controlled electric radiator, the Niva together with a hybrid version of the designer radiator the Niva Mix. 
The newly upgraded Niva range of electric radiators are easily controlled you can choose from a radio frequency version, which is not connected to your home internet and comes with a compliant thermostat as standard. If you wish to control your electric radiator via the VASCO Climate Control app on your mobile phone you will need the E-Volve Wi-Fi control version, this and the control unit can be ordered separately. The compact Wi-Fi module uses Bluetooth to communicate with a small temperature sensor located in the same room as the radiator. A third version, which allows you to control the radiator with your home automation system, is also available.
The Niva is a dry thermal panel electric radiator and does not contain any water; it heats up very quickly as it uses VASCO's new infrared technology to generate a comfortable, radiant heat. The upgraded electric Niva allows you to control and limit the radiator's surface temperature, which is an extremely practical feature in rooms where safety is paramount, such as nurseries, it is far lighter than a water filled radiator making it much easier to install based on a plug-and-play principle. 
The VASCO Niva Mix is an exciting new hybrid radiator. It is an ideal solution as it offers two options: it can be connected to a hydronic central heating system or run on electricity. This makes the Niva Mix hybrid radiator perfect for areas that need to heat up quickly when the central heating system is switched off, such as bathrooms. The minimalist, sleek and stylish electric Niva and Niva Mix radiators are available in an extensive range of colours that will work with any interior. 
All VASCO accessories that are suitable for the hydronic Niva radiators are also available for the upgraded electric Niva and the Niva Mix.
To stay up to date on the latest, trends, innovations, people news and company updates within the UK property and housebuilding market please register to receive our newsletter here.
Media contact
Rebecca Morpeth Spayne,
Editor, Showhome Magazine
Tel: +44 (0) 1622 823 922
Email: editor@yourshow-home.com