How has the materials shortage, due to the pandemic and Brexit, caused challenges to the flooring sector, and what can housebuilders do to protect price rises and delays? Find out now in our exclusive flooring feature sponsored by Designer Contracts. 
The UK government has made much of its ambition to "build back better" as part of its strategy to drive growth across the economy. Build more and better homes, deliver new transport infrastructure—roads, railways, airports, etc.—and get cracking on more commercial, office and retail space. It's not just commercial building, but residential development has soared in recent months too. Amidst this 'build' recovery, a combination of Brexit and the pandemic has caused a materials shortage, which has particularly impacted the construction industry.
Demand for materials has inevitably risen, yet supplies have slipped, and prices are rising. So how has this affected the industry as a whole, and more specifically, flooring. Flooring as a bricks and mortar foundation sector in the industry demands multiple materials when building homes.
The good news is that after a torrid 2020, construction activity regained some momentum in the beginning of 2021, with projects previously delayed by the pandemic starting to stir. A slowdown in homebuilding was "more than offset" by the sharpest rise in commercial work since last September, according to the latest IHS Markit/CIPS UK Construction Purchasing Managers Index.
"Survey respondents commented on contract awards for commercial buildings that had been delayed earlier in the pandemic and some reported a boost from infrastructure work related to major transport projects," the report said.
However, it has taken longer to get things started than many would have liked. Why? The pandemic has certainly played a major role. But there are other factors.
Shortages
According to IHS Markit, February saw transport delays and stronger demand conditions, stretched global supply chains, greater shipping charges and rising commodity prices. These combined to deliver the sharpest increase in average cost burdens across the construction industry since the summer of 2008.
Brexit, billed by the government as the chance for the UK to forge its own destiny, has come in for a lot of flak in recent months. The UK's departure from the EU has been cited as creating a potential shortage of labour in the domestic construction industry, as foreign workers have chosen to leave the country or stay away after trips home.
Meanwhile, changes to customs rules immediately following Brexit have slowed imports of building materials and other goods, as border officials grapple with new paperwork covering trade between the EU and UK, putting more pressure on prices and creating a building materials shortage.
So what does this mean for flooring? And what can housebuilders do to curb these challenges and protect themselves from rising prices and potential delays?
Take hardwood flooring for one example. Hardwood production already had dropped 8.2% in 2018-2019, which put some sawmills and lumberyards out of business and further reduced supply. Then the pandemic hammered these producers even more, driving down the output of raw materials. By March 2021, production had begun to increase substantially over the previous year, but increasing demand continues to outstrip diminished supply.
The costs of lumber climbed more than 80% during the first 5 months of 2021, and rose 340% over the previous year. This affects flooring as well as new residential construction, with an average $36,000 increase in the cost of a new single-family home. To make matters worse, in 2020, wildfires burnt up billions of board feet of lumber. In Oregon alone, wildfires destroyed enough lumber for construction of 1 million new homes. These shortages affect engineered wood products as well as regular lumber and hardwood flooring.
Meanwhile, flooring and raw-material production overseas continues to lag because as factories begin to reopen, manufacturers have had trouble staffing up and resuming output. Shipping restrictions and delays also have affected the availability of offshore goods, including flooring. In addition, a labour shortage in the trucking industry continues to slow the delivery of finished goods, while shortages in vehicle production make it difficult for trucking companies to upgrade their fleets. Even packaging materials are in short supply, increasing these costs more than 50% during the 12 months between April 2020 and April 2021.
Flooring and home-building experts know that current high lumber prices almost certainly represent a short-term problem, but exactly how long the problem will take to resolve depends on many factors. For example, the flooring industry competes with manufacturers of other types of products – bourbon distillers, for one – for access to the hardwood supply. Ultra-high demand also risks over-logging the forests that produce white oak and other desirable hardwoods, which can lead to additional supply-chain challenges in the future. So, perhaps it is time for housebuilders to look at other alternative materials and approaches to minimise the use of traditional flooring materials, to not only protect themselves from delays and price rises, but also protect the flooring industry and lumberyards.
Complex situation
A joint statement by the Builders Merchants Federation (BMF) and Construction Products Association (CPA) suggests that while the ongoing impact of Covid-19 has been behind a series of shortages and price increases, the overall picture is "more complex".
For example, strong global demand for steel is resulting in shortages, order backlogs and increased prices for most products. And while supply and demand issues were likely to rebalance within the next few months, "global dynamics may continue to drive prices up".
The UK construction industry should be prepared for the high price of timber to continue for the foreseeable future, the BMF/CPA said, with production in traditional timber-growing countries easing off in 2020 vs. 2019. Sweden saw production down 7%, while in Finland production was 15% lower.
John Newcomb, Chief Executive of the BMF and Co-Chair of the Construction Leadership Council's Brexit movement of building products and materials group, said recently that timber prices were surging by 20%. This is telling, not least because timber has undergone a surge in popularity among many house builders, being seen as an effective and environmentally friendly solution to delivering new homes quickly.
It also ties in with the push for the use of modern methods of construction across the country. While the construction industry has been relatively slow to take up new technology, some UK companies have taken advantage of overseas interest—and welcomed inward investment.
Modern methods, market forces
The use of modern methods of construction and factory building programmes will go a long way toward improving quality and production efficiency, but manufacturers will still be at the mercy of market forces when it comes to the building materials shortage.
A separate CPA survey conducted in January found that nearly a quarter (23%) of its members involved in heavy activity—that is to say aggregates, cement, ready-mix concrete, structural and reinforcing steel—believed getting hold of the building materials they needed would be the primary constraint over the next year, the highest such proportion since the CPA began polling its members in 2008. Is it time for the revival of the carpet throughout the home, and minimising the use of harder materials such as lumber, stone and slate for flooring, despite the aesthetic, or is this something that we just have to see out into the new year.
Builders are no strangers to shifts in the price of the raw materials. But few would have forecast the near-perfect storm that has swept through the sector in the past year. Thanks to Covid-19, Brexit and other factors, the past year has given the UK construction sector little comfort. It is only now starting to recover, and tentatively at that.
The industry will be hoping for calmer and more predictable conditions in the year ahead.
From the sponsor – Designer Contracts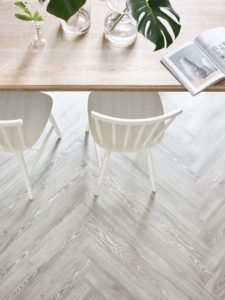 UK's largest flooring contractor, Designer Contracts, identifies how they can help housebuilders maximise their housebuyers' satisfaction and keep up with demand 
As the UK's largest flooring contractor our supply and installation to the major house builders across the UK is keeping us very busy and we're working hard to keep up with the demand that the industry is currently seeing.  
We pride ourselves on providing the best advice to make sure housebuilders are provided with a flooring solution to meet their needs and we are frequently asked by developers large and small for input to help maximise their housebuyers' satisfaction.   
Selecting the right type of floor covering can be more complicated than just choosing the one that looks the best.  There are other factors to consider especially when it comes to new build properties, moisture, durability and impact sound being some of them.  There are several flooring options that can overcome some of the considerations that need to be made for certain developments.  For example, felt back vinyl is a great solution for domestic kitchens or bathrooms and is more tolerant of slight imperfections in the subfloor and to moisture.  Hard flooring including luxury vinyl tiles and laminate or wood are always popular options and if you're installing in apartments, impact sound reduction is at the top of the list to consider.  A good quality laminate underlay will reduce impact sound and the flexible nature of LVT means that it absorbs sound.  It is worth considering that dry backed LVTs which are stuck down, are often more appropriate to south facing developments than most click or floating floor LVTs. 
Homes have become far more important given the amount of time people have spent there. That trend is set to continue with more and more of us likely to be working from home on either a permanent or part time basis. The more time people spend at home, the more likely they are to upgrade their interior. After spending so much time locked down in their homes, the demand is for better products that really look and feel good. We're also seeing more in the way of adaptable, zoned living. Spaces which can be converted into areas for work will be a growing consideration and most housebuilders are already incorporating open plan, flexible floor plans into their builds.  
LVT remains a popular choice because of its versatility and practicality – and also the open plan nature of their houses. It is also accessible pricewise and easy to fit, providing homeowners with the chance to create a unique interior décor with a wide choice of designs on offer. Whether it's a marble hallway or a mosaic bathroom, LVT can offer excellent replications of the real thing at a fraction of the cost. Carpet remains the most popular choice for bedrooms as it feels luxurious underfoot, adds warmth and insulation to a room and also provides a 'sound barrier', between upstairs and downstairs. Luxurious deep pile carpets and soft touch Saxony's in grey and neutral shades remain strong.  
As awareness of environmental considerations increases, demand for sustainable flooring products is growing all the time and new and innovative products are emerging.  Our SpringBond underlay ticks that box as it is an eco-friendly alternative to PU foam, felt and rubber underlay. Spring Bond is manufactured in the UK and made from 85% PET plastic bottles.   
Get in touch with us to discuss how we can make a difference to your flooring requirements.  
Commentary: Charles Taylor, Director at Composite Prime
Composite is the fastest-growing timber alternative currently available on the market. Increasing in popularity due to the timber shortage and its sustainable credentials, composite materials boast a unique formula that produces a high quality finished product that does not rot, splinter or decay.
Although traditional timber has been the preferred choice of many for years, it's a high maintenance product which requires annual painting and staining. Composite however is a no fuss alternative which makes it low maintenance and more durable than traditional products.
Manufactured using the latest technology to provide the look and feel of traditional timber without the health and safety concerns, composite is created using a combination of recycled plastics and 100% FSC Certified wood flour – a waste product of hardwood production.
The wooden fibres and plastic shavings are combined with colour pigments before being heated and extruded. The plastic content gives the boards a long lifespan without the need to treat or seal the material, whilst the wood content enables the product to retain its natural look and feel. The finished product is 3D embossed with wood grain or contemporary linear grooves to meet the requirements of housebuilders.
Making sustainable choices when it comes to developing and designing gardens is crucial to combat the growing crisis around waste products. Composite decking and cladding has a number of environmental benefits and in the last six years of operation, composite specialist brand, Composite Prime has saved the equivalent of 151 million plastic milk bottles from landfill. As well as this, each square metre of its composite decking contains the equivalent of more than 3,000 plastic bottle caps or 300 plastic bottles.
Commentary: Ian Cooper, Director at global legal business, DWF
The construction industry has more than its fair share of challenges and, as we hopefully emerge into a post-COVID world, the ongoing demand for its services is manifesting in both shortage of construction materials and associated significant inflationary prices.
The September data from the IHS Markit / CIPS UK Construction PMI, shows another slowdown in growth in the construction sector, with output volumes rising to the smallest extent for eight months. Understandably, some construction businesses may be holding off on construction decisions until the market conditions show some signs of stability.
On the flipside the confidence of construction firms remains high and this is good news for job seekers as the demand for skilled labour is relentless.
Aligned with the current experience of other industry sectors, skilled labour supply chain issues remain a challenge for construction. However, this also reveals opportunities for increased productivity initiatives such as pre-fabricated / off site construction.
Commentary: Mike Fairman, CEO, Checkatrade
The current global raw materials shortage has had a profound impact on the UK trade and construction industry. Soaring demand, the impact of Brexit, continued pandemic recovery and shock factors like forest fire threats in North America are all reasons behind the shortages we have seen.
Our recent consumer research has revealed that awareness of the shortages is low, with only a small percentage of Brits (22%) claiming to have heard of the shortages and understanding how they could affect them. However, many have already experienced its impact, with 21% of respondents experiencing delays in either their jobs being started or completed due to a shortage of raw materials.
The property and home renovation market has been booming over the last year and demand shows no sign of slowing down – in fact we've had 49% more consumer searches so far this year than in the same period last year. With this in mind, we'd recommend that homeowners factor potential future shortages into any upcoming projects they plan to undertake on their homes. In particular, they should make sure to speak to tradespeople when planning a project to discuss timelines and should be careful to use reliable sources such as Checkatrade to find vetted, reviewed tradespeople.
We know our trade members are keen to work with their customers to find ways to overcome these issues, including trying to find alternative materials that could be used.
To stay up to date on the latest, trends, innovations, people news and company updates within the UK property and housebuilding market please register to receive our newsletter here.
Media contact
Rebecca Morpeth Spayne,
Editor, Showhome Magazine
Tel: +44 (0) 1622 823 922
Email: editor@yourshow-home.com