Hot taps are becoming more important than ever these days, with a host of innovative designs making waves. InSinkerator's Product Manager, Marco Pastore, gives Showhome an expert view on the topic.
What sets InSinkErator apart from its competitors?
Consumers are increasingly looking for exceptional quality, individual style and cutting-edge technological advances. InSinkErator® encompasses all of these elements in addition to an esteemed brand heritage and reputation, reliability, product warranty, and recognition from trusted sources.
The InSinkErator® Evolution 250 food waste disposer has an unrivalled eight year parts and labour guarantee for peace of mind. In addition, the InSinkErator® range of 3N1 steaming hot water taps come with a five year in-home limited warranty on the tap and two year parts and labour limited warranty on the tank.
The steaming hot water tap ranges has also gained approval from the Water Regulations Advisory Scheme (WRAS). A product that has been approved by WRAS confirms that it complies with the Water Supply (Water Fittings) Regulations and the Scottish Byelaws. The regulations mean that the water fitting will not cause waste, misuse, undue consumption or contaminate the water supply, and must be 'of an appropriate quality and standard'. InSinkErator® has also gained approval from WRAS for their hot water tank and filter unit.
What specific products are you most focused on investing in?
InSinkErator® is recognised as a market leader and the world's largest manufacturer of food waste disposers, having invented them over 90 years ago. Steaming hot water taps are a recent addition (2007) to the portfolio designed to forge modern living and busy lifestyles. Both categories will remain a focus of company with the tremendous sales and double digit growth over the last half decade.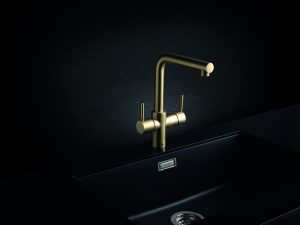 How do you show your commitment to the natural environment?
According to WRAP, seven million tonnes of food and drink are wasted every year in the UK; amounting to approximately 20 per cent of all household waste and resulting in a huge strain on landfill sites. We all need to do our bit to reduce this vast amount of food waste ending up on landfill sites. At InSinkErator®, we demonstrate our commitment by offering advice on the benefits of a food waste disposer, not only on how it will assist the consumer in their own home, but also the affect a food waste disposer can have on reducing food waste ending up in landfill. We also aim to encourage our customers to buy and use their food wisely.
Despite our best efforts to reduce food waste, a small proportion is inevitable and many of us are faced with the difficulty of sustainably disposing of our vegetable peelings, banana skins and remnants left on dinner plates. The optimal method to dispose of food waste is to compost, but this is not an available option for everyone. A food waste disposer is a discreet asset to any home and provides households with a safe, simple and effective way to dispose of food waste in an affordable, convenient and hygienic manner.
InSinkErator® food waste disposers work using an innovative system of stainless steel grinding rings, reducing food waste to a minute size, which is then dispatched and simply rinsed away safely down the drain, through the standard plumbing. Not only does this offer an alternative to traditional disposal methods, but by reducing food waste to landfill sites, it also helps to reduce greenhouse gases and the household's carbon footprint. In addition, and where there is an anaerobic digester, within the sewage system, the nutrients from the food waste can be recovered and turned into biogas and fertiliser.
Household water usage and waste is also becoming an issue in today's society. According to the Energy Saving Trust, 40 per cent of households boil the kettle at least four times a day, with 75 per cent admitting to boiling more water than they need; accounting for a significant amount of water and energy wasted every year. Homeowners can save water, and time, with a steaming hot water tap from InSinkErator®.
With an InSinkErator® steaming hot water tap, hot water is available on demand. This immediate availability means little to no water is wasted. Hot beverages and instant foods requiring hot water can be prepared without the use of the kettle, only using exactly the amount needed.
What is your most popular product? Why?
Steaming hot water taps are increasingly sought-after as a combined fixture, offering steaming hot water alongside regular hot and cold water, as the tap market continues to innovate.
The popular InSinkErator® 3N1 steaming hot tap with filtered steaming hot water, also provides regular hot and cold options, eliminating the need for both the kettle and multiple kitchen taps. An InSinkErator® steaming hot water tap comes complete with a compact and convenient water tank, which is easily installed and fits discreetly under the sink. With everything necessary for installation, the tap can be easily retrofitted, by means of replacement, for a simple yet striking addition with an abundance of benefits, including the reliability and reassurance that comes from a world class brand.
With the growing trend towards more minimalist kitchens, there is a greater desire to keep worktops clutter-free. As a result, a kettle or water filter jug is now often regarded as just another item taking up space in the kitchen. Open-plan living has brought the kitchen into the living room and designers are responding to consumers' evolving needs by introducing sleeker designs that aim to achieve continuity throughout the whole space.
Current trends have also seen colour and minimalism lead appliance design and InSinkErator® has embraced this with their space-saving essential, the 3N1 L Shape steaming hot water tap. The exciting L Shape range from InSinkErator® is available in a variety of finishes including Anthracite, Brushed Steel and Chrome to suit many different tastes. The L Shape 3N1 is also available in finishes of Satin Black and Brushed Gold as part of the Showroom Collection, available exclusively from premium independent kitchen retailers.
InSinkErator® has also recently launched the Rose Gold J Shape 3N1; a stunning, curved design, offering the same convenience and water saving qualities as the L Shape range. The 3N1 J Shape, which is also available in finishes Polished Chrome and Brushed Steel, as part of the exclusive Showroom Collection.
With a variety of finishes and two different shapes to choose from, the 3N1 steaming hot water tap is our most popular product on the market today.
What does it mean to you to be part of Emerson?
We are extremely proud and benefit tremendously from being part of Emerson, a diversified company with food waste disposers and hot water taps just a small part of the organisation. Emerson's activities include a wide range of products and services in industrial, commercial and consumer markets. With innovation part of the Emerson DNA, InSinkErator® also benefits from a high level of product development to meet the demands of modern living.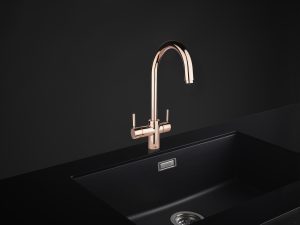 How successful are your hot water taps? 
InSinkErator® has been marketing steaming hot water taps since 2007. However the launch of the 3N1 has been exemplary with the company achieving double digit growth year on year.
The market for steaming hot water taps is positive as increasing numbers of consumers are choosing to cast out the kettle and install a steaming hot water tap. Our steaming hot water taps streamline the kitchen, save time, increase convenience and flexibility, as well as reduce water waste in the home. According to the 2017 Houzz UK kitchen trends survey, 24 per cent of respondents installed a steaming hot water tap in their kitchen in the last 12 months or plan to install a steaming hot water tap in their kitchen in the next three months.
The hot tap is most suited to what style of kitchen?
Regardless of the kitchen style or type, consumers are demanding exceptional quality of appliances that make life easy and benefit from cutting-edge technology. Appliances that offer convenience and flexibility, coupled with energy saving capability, are likely to continue to be among the hottest trends. InSinkErator® has designed their steaming hot water taps to complement all types of kitchen styles and décor, offering convenience to the consumer and enabling the kettle to be ditched and de-clutter their kitchen.
What complexities can arise in installing a food waste disposer or steaming hot water tap?
InSinkErator® steaming hot water taps and food waste disposers connect to standard plumbing and are designed to fit easily under all sinks and simply need an electrical connection. InSinkErator® makes installation, and even retrofitting, easy by delivering all the components needed for quick and efficient installation or replacement of an existing product.
Complexities that can arise during the installation process include amount of space available under the sink, the type of worktop surface that surrounds the sink, distance of an electrical connection and accessibility of the sink and standard plumbing. To ensure a smooth installation process, InSinkErator® provides information outlining the installation criteria and an installation check list. Each InSinkErator® model is also accompanied by a step-by-step installation guide, with helpful specification sheets and installation videos also available on the InSinkErator® website.
What is the significance of the food waste disposer in the modern kitchen?
The most desirable products that consumers seek are those that make lives easier and improve the look of their kitchen, which for the majority is the most utilised room in the home. An InSinkErator® food waste disposer is perfect for the modern kitchen as it blends unobtrusively into the kitchen design, without compromising on the finished appearance.
Separating waste for recycling is important, but is often neglected by the consumer as it is not always convenient. Making space for a number of bins in a small kitchen can be a big issue and can be unsightly in an open-plan kitchen and living area; not to mention the lack of hygiene and unpleasantness of food waste sitting waiting for the weekly, or even bi-weekly, bin collection. More consumers are investing in food waste disposers, which offer numerous advantages for the modern home.
Modern kitchens can be spacious or they can be compact; style doesn't define size and space available for appliances. As the global leader and inventor of food waste disposers, InSinkErator® has a range of models to suit every household and lifestyle. The affordable M Series models are smaller in size than other InSinkErator® food waste disposers, but still possess the same functionality and versatility as the larger models. The M Series range features three food waste disposers in different sizes; Model 66 for use by large families, Model 56 for regular use or for smaller households and the smallest model in the range, Model 46 is ideal for light use or first time buyers.
What has been the company's biggest success to-date?
One of our many successes is achieving WRAS approval on our ranges of steaming hot water taps, the hot water tank and filter unit. The approval from WRAS demonstrates the commitment of InSinkErator® to compliance and the safety of consumers, encouraging the efficient use of water within the home and offering products that prevent the contamination of public water supplies. By achieving WRAS approval, the complete range of InSinkErator® 3N1 steaming hot water taps also meets the necessary regulations of the national water suppliers to be installed into new-build homes.
How will the business look in five years?
InSinkErator® continually strives towards making the world a better place. The environment, resource saving and designing appliances for modern living and busy lifestyles will continue to be the focus well into the future.
You can find out more about Insinkerator at www.insinkerator.co.uk