British Ceramic Tile's Marketing Manager, David Richards, predicts his design trends for the kitchen for 2017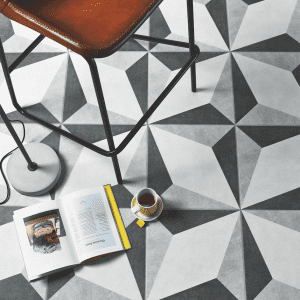 The industrial look
For 2017 we are predicting that the industrial look is set to make a come back in a big way. Last year we saw the start of the industrial trend with concrete effects and natural materials all featuring within the kitchen, but next year the urban look is set to amplify and go to the next level. Raw, exposed, urban; the industrial trend is all about mixing materials and using accents of metal, brick and wood to create a kitchen with contemporary appeal.
Metallics and exposed bricks
When it comes to wall tiles, expect to see metallics and exposed brick effects. Bringing a new dimension to walls, metallic tiles can create a show stopping splashback when used together, or can be used sparingly with plain tiles, providing projects with maximum design flexibility. With their shimmering finish and glamorous appearance, they work particularly well with wood worktops and plain cabinets for a contemporary high-end look.
Brick-effect tiles will also feature heavily in kitchen design, with new inkjet printing techniques allowing manufacturers to recreate the look of exposed brick on ceramic tiles. Rustic and textural, exposed brick-effect tiles are at the other end of the spectrum to metallics, creating a bare, stripped back look, but again still tap into the industrial trend.
Shapes and materials
Metro, brick shape tiles are popular within kitchens. Classic yet contemporary, metro tiles can work in any style of kitchen. Expect to see long elongated metro tiles as well as classic brick shapes. Strong geometric shapes such as hexagonal tiles will also feature within the kitchen, offering an edgy take on square tiles.
Ceramic tiles, whether wall or floor, are incredibly versatile and a cost effective alternative to porcelain and natural materials such as real stone or marble, ceramic tiles are also relatively easy to cut and install, requiring no special treatment or maintenance, selling points which really appeal to architects and designers. And now with so many different shapes, sizes, colours and finishes available, driven by developments in inkjet printing and advanced manufacturing techniques, it's clear to see why the specification environment is favouring ceramics over the real counterparts.
Colours
Copper is a colour we're all coveting for 2017. Warm, inviting, copper is pure luxury wrapped up in a mesmerizing metallic finish. Central to the industrial trend, copper combines well with black, white, and grey adding a bold accent and much needed pop of colour to any kitchen design. Best suited to finishing touches such as tiles, splashbacks, lighting and accessories, copper is the one colour not to be missed next year.
What's hot under foot
Investment in technology and new printing techniques has transformed the flooring sector. Digital printing has enabled manufacturers to make huge in roads into the market bringing bold designs, patterns and styles to floors. Almost any image whether it's a geometric pattern or stone-effect can be recreated on a ceramic or porcelain tile thanks to inkjet technology.
2017 is the year of pattern. Not just simple stripes and checks. Brave, daring patterns that make the floor take centre stage rather than become a supporting artist. Modern takes on Victorian patterns will be in demand and will add interest to kitchen floors, all within a monochromatic colour palette.
Patterned floors will become more impactful, sweeping across the whole expanse of kitchens, creating a real focal point, while for consumers wanting to make less of a statement, rug effects will be popular. Think patterned tiles in the centre of a floor, surrounded by coordinating plain tiles.
Designer collaborations and brands
The UK's love affair with designer brands continues unabated, with iconic British designers now featuring in our homes as well as our wardrobes. Brands, now more than ever before, will be central to retailers as they tap into consumer demand and offer customers an aspirational product that sells a lifestyle, not just a product.
Fashion forward and innovative, these branded collections push the boundaries of design and cater for a wide range of consumer lifestyles. The beauty of branded ranges is that they offer something completely unique and different, enabling consumers to express their personality and style throughout the home.
www.britishceramictile.com
Save
Save