British Gypsum partners with Scandia-Hus on contemporary show home
Scandia-Hus, the largest designer and supplier of self-build Swedish energy-saving homes in the UK, prides itself on creating properties that combine the benefits of Swedish design and advanced technology, with the best of traditional British architectural style and building craftsmanship.
That's why when Scandia-Hus was looking for manufacturers to be involved in the build of its contemporary new show home, it made sense to partner with British Gypsum, the UK's leading manufacturer of interior lining systems.
The Adelia show home, which is located at the company's sales office in Felcourt West Sussex, has been designed with a unique twist on the chalet style homes commonly found in and around European ski-resorts. Built with timber frames, the 2,806 sq.ft property is lined with Lifestyle Wall, a stronger and more durable alternative to standard plasterboard, from British Gypsum's Rooms Made For You range.
Lifestyle Wall was chosen for the Scandia build as its core strength means it can withstand repeated bumps and knocks, perfect for high-traffic properties. In addition to its high durability, Lifestyle Wall also has a reinforced core making it five times stronger than standard plasterboard. This means that a homeowner can attach heavy fixtures and fittings to a wall with a single screw supporting 15kg of weight. This level of performance is achieved by using 12.5mm Gyproc Habito, a new innovative board which provides enhanced levels of strength, durability and fixability.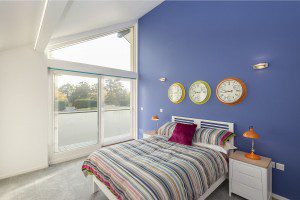 Sarah White, Residential Sector Manager at British Gypsum comments: "We've been thoroughly impressed with the quality and design of the Scandia-Hus builds. When the opportunity presented itself to get involved with the show home naturally, we jumped at the chance. The property really showcases the potential of Lifestyle Wall and how it provides homeowners with the choice and flexibility to make their home their own."
Derek Dawson, Sales Director from Scandia-Hus adds: "The aim of the show home is to ultimately provide inspiration to self-builders looking to create their own homes. As well as capturing their imagination with the style of the build, we want to inspire them with the internal space. With Lifestyle Wall we have been able to hang oversized mirrors, clocks, curtain poles and light fixtures with the security that the walls could withstand the weight and there would be no lasting damage."
"We anticipate that in the future we may want to re-style the interior, just like any normal home. Lifestyle Wall has provided the reassurance that we'll be able to achieve this with no complications. We've been truly impressed with capability of Lifestyle Wall, it really is a fantastic product that we would have no hesitation in recommending to our customers."
In addition to Lifestyle Wall, the Adelia show home also features British Gypsum's Thistle Magnetic Plaster which is also part of the Rooms Made For You range. Used in one of the bedrooms and the study, the magnetic plaster adds a practical and interactive element to the space.
All Rooms Made For You products and components are available from local builders merchants. A builder or architect will be able to help with guidance and installation.
British Gypsum, part of the Saint-Gobain group, is the UK's leading manufacturer of interior lining systems. The company produces gypsum based systems including plaster, plasterboard and ceiling solutions. With over a century of experience, it has developed innovative products and services that help customers build better spaces to live, work and play.
British Gypsum offers a range of plasters, partition, wall lining, floor, ceiling and plasterboard systems for the residential, commercial, off-site and RMI (refurbishment, maintenance and improvement) sectors of the construction industry.