Paul Burrows, Demand Creation Leader at door hardware manufacturer Allegion, explains how important it is to specify the correct ironmongery for your doors
The finer details of door hardware and architectural ironmongery can often be seen as insignificant, but for those involved in the specification of the building it's quite a different story. Here, Paul Barrows, demand creation leader, from specialist door hardware manufacturer, Allegion, outlines what to consider when specifying architectural ironmongery.
Modern commercial buildings are ever attempting to bridge the gaps between complete integration of design and high-quality finish across all hardware requirements of the building, with exceptional levels of performance. The specification of door closers is often one of the first considerations, but other seemingly minor accessories are also vitally important, both for security and occupant experience.
Throughout the specification stage, it must be remembered that door hardware is the first point of contact for anyone entering and moving around a commercial building. Although its impact can sometimes seem obsolete or is an afterthought during design, it is an area that receives a lot of interaction in-situ. In addition to having the right look, the selected hardware must have the right feel and finish and be backed up by a level of performance that will ensure the hardware is suited to the application and the amount of use it will face.

Suitability
For accurate door hardware specification, there needs to be a large emphasis on the type of people who will be frequenting a commercial building. It's likely that this will be partly pre-determined throughout discussions on the types of doors and sizes, so we'd always advise for these discussions to be held at the same time. For example, on larger doors – especially double doors – pull handles are likely to be more suitable to make them easier to open, whereas more basic lever furniture opening mechanisms are best suited for single door entry into rooms.
The concept of universal access is not new but still provides a challenge for the construction industry. To meet obligations under the Equalities Act, Approved Document M of the Building Regulations and BS 8300 continue to be the measuring points by which conformity is measured. We have a full specification team at Allegion to help specifiers navigate this legislation. We can also cater to specific requirements such as low-energy door controls and high-efficiency mechanical door controls. These solutions make it simple to meet the conflicting requirements of BS 8300 and fire safety requirements of EN 1154.
Quality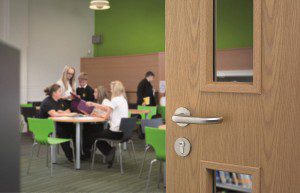 Specifiers should look for door hardware that has been tested to British and European standards where appropriate. Some products have the highest grade of use in the standard and their use should be prioritised. Working with reputable manufacturers that provide installation support and tools is also advised to aid contractors. Especially in public sector specifications, there is often an emphasis on cost, but I'd urge investors to put quality first. This is not only to keep ongoing repair and maintenance costs down, but also because it will keep the building safe and more secure for occupants.
Appearance
Architectural ironmongery within a building can sometimes have to match a certain look and feel. Naturally, this is more often within the private sector opposed to the public sector, but for this reason, at Allegion, we've ensured that our range of lever and pull handle door furniture is in stainless steel. Strides have been made in terms of the aesthetics of door hardware over recent years and it no longer needs to appear industrial or for heavy duty environments only. In fact, it can often be matched to the interior with classic or contemporary styles.
Occupant experience is crucial, and essential components such as push and pull plates complete door set specification. Although not technically essential to the daily operation of doors, this signage helps to keep a buildings' occupants safe by informing people of how the door operates, while it also helps to protect the wider door furniture as it's less likely to be pushed or pulled in the wrong direction. All accessory components such as push and pull plates, fire door signs and toilet signage from Allegion are manufactured in stainless steel to match the principal items.
Complete specification solutions
It can often seem to be a challenge to satisfy a variety of performance requirements – including fire safety, convenience, privacy, disabled access and reliability. I'd urge specifiers not to let these considerations be an afterthought. Seemingly more minor door hardware components can have a huge effect on the occupant experience and safety. We recently launched our inspec guide to aid specification of architectural ironmongery and have a strong selection of brands, like Briton, to help the industry put these lessons into practice.
About Allegion
Allegion is a global pioneer in safety and security, with leading brands like Bricard®, Briton®, CISA® and Interflex®. Focusing on security around the door and adjacent areas, Allegion produces a range of solutions for homes, businesses, schools and other institutions. Allegion is a $2 billion company, with products sold in almost 130 countries.