Ian Foster, Operations Director at multi-utility connection and infrastructure provider business, Fulcrum, explains how infrastructure plays a large part in any new development
The construction of each new housing estate brings with it a variety of individual requirements and challenges that are dictated by the characteristics of the design details and each location.
As a result, for a developer to achieve their vision for a residential scheme, it is important that any circumstances, either on or off-site that have the potential to hinder its efficient progress, are identified at the earliest opportunity. This includes the procedures and processes surrounding connecting up individual homes with the utility distribution networks. Utilities installed in a timely manner and at the right price are what every developer wants to see happen.
Sounds simple, doesn't it?
Utility projects can be more complex than they seem
Often these essential requirements are not as straight forward as they may seem.
It can turn out to be deceptively complicated, with a variety of third parties to liaise with and manage as well as a maze of complex legal issues having to be negotiated before even the ground can be broken in preparation for the first trench to be dug.
This is a big undertaking for a developer already juggling a multitude of elements associated with turning a residential construction blueprint into a bricks and mortar reality.
Therefore, for new-build developments to stay on schedule and within budget it's imperative that utility connection requirements are factored into the process from the outset.
Developers need to be aware of the potential pitfalls and challenges, such as existing utility networks already working at full capacity and not having the ability to service additional homes without extra, and often lengthy, work being involved.
The topography of the site and the surrounding area may present its own complications when it comes to digging trenches and laying the necessary pipework to link up individual new homes with the gas and electricity distribution networks.
It can take a substantial amount of co-ordination, preparation and pre-notification work get to all the necessary permissions in order. Any obligations relating to the restoration and re-instatement of the landscape following the utility infrastructure and installation work also need to be strictly adhered to.
Highway authorities also can impose restrictions on when roads can be closed to prevent disruption to traffic flows at peak times of the day or at certain times of the year.
All of these aspects have the potential to seriously impact on timescales and costs. The solution is for developers to enter into a relationship with a utilities infrastructure expert that not only has an in-depth appreciation of the general principles and the regulatory regimes surrounding utility installations, but also has the agility and ability to meet particular requirements of the client and their development site.
Benefit from the advantages of a turnkey service
A full end-to-end delivery, including design, consultancy, site audits, and project management and completion, is essential for the smooth running of any project.
Developers also stand to gain substantial benefits if they employ a dual fuel or multi-utility supplier to install their gas, electricity and water requirements at the same time. Handling these connection requirements side-by-side can generate savings in both time and money while also removing the need to deal with several providers.
The provision of a dual or multi-service means that supplies, wherever possible, are installed in the same trench, which not only helps minimise disruption in the surrounding neighbourhood and onsite, but also is better for the environment.
Part of our offering is owning and operating domestic supply pipelines and with this emphasis on such a long-term legacy, Fulcrum has a vested interest in making sure that the assets are fit for purpose and dovetail in with the programme of works and the ambitions of the developers that we are working alongside.
Choose a utility provider you can build a trusted relationship with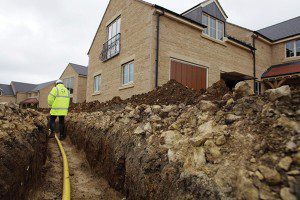 Any relationship between a developer and a sub-contractor needs to be a collaborative arrangement, not a "them and us" situation.
At Fulcrum we become an integrated part of a developer's functions with each of our clients being allocated an experienced project manager as their dedicated point of contact.
Continual company development and investment is crucial and it should be incumbent on suppliers to embrace any new technologies that can help it work better and smarter. We have introduced interactive applications for use on smart phones and tablets. This gives our engineers all the necessary information and reporting requirements at their fingertips, allowing them to start and finish jobs on site.
At Fulcrum, the business puts the client at the heart of everything we do with our operations revolving around a directly-managed delivery model, which enables us to directly control projects from initial consultations through to project completion
We are committed to supporting the country's growing housing requirements and developers' ambitions for the delivery of integrated, efficient and cost-effective housing projects.
Fulcrum, which is the only independent utilities infrastructure provider covering the whole of the UK, has recently launched a dedicated housing division as we further increase our activity in the domestic property sector.
This division will build upon our existing housing experience to provide multi-utility connections to new-build developments and the retro-fitting of pipelines to existing residential properties.
In tandem, with our gas connections expertise, we also have increased the skills of our engineers to design and deliver electricity connection services and the installation of utility meters to provide a more efficient and comprehensive service to housing developers. That, coupled with our directly-managed workforce, means we can offer a more responsive and timely service to housing developers, ensuring sector-appropriate project lead times and delivery programmes are implemented.
Developers need to know that they can trust and have confidence in the integrity, safety standards, values and aims of a supplier. They should look for utility partners that have received independent validations of their capabilities.
We have market leading levels of accreditation which are independent testimony to the quality of our work and the commitment and expertise or our staff. The industry-recognised endorsements include GIRS, WIRS, NERS, MURS, Gas Safe, CHAS and Constructionline, together with, ISO9001 and ISO14001.
Make your utilities an early consideration
Utilities, such as gas and electricity, are one of the key components that help transform houses into homes, which is why they should be among the initial considerations when a developer starts to plan a new development.
Utilities must not be an afterthought or downgraded to the Cinderella of a development and brought to the party too late. This runs the risk of them becoming an interloper or gate crasher – and we all know how disruptive a gate crasher can be.
An early invitation to the table enables a utility company to provide the most responsive, timely and cost effective service to housing developers.
Engaging with an experienced multi-utility infrastructure company, such as Fulcrum, at the earliest opportunity, means that if there are particular circumstances on a site, it will be identified and assessed, and an action plan drawn up as soon as possible to address any issues.
Leaving this until later in the development process can trigger unexpected and unwanted increases in costs as well as causing delays, which also can affect the all-important profit margins.