The London-based studio of award-winning architects, Holder Mathias has completed the £4m restoration and refurbishment of a residential property at Park Lane. Having undergone a complete transformation, the formerly derelict Grade II Listed building at the north end of Park Lane now comprises four luxury rental apartments and a ground and basement level commercial unit.
The Regency townhouse has suffered a history of neglect due to a series of poor adaptations throughout the years. After a prolonged period of vacancy, it was occupied by squatters in 2010, who held an illegal rave resulting in 2,000 revellers and the closure of Park Lane by riot police. The damage from the rave left the building in a severely dilapidated state, and was subsequently added to the Historic England 'Heritage at Risk' register.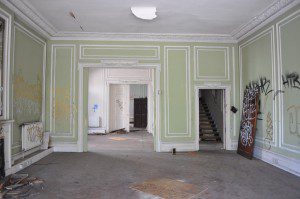 Holder Mathias has carried out a sensitive restoration of the landmark building, reversing some unsympathetic conversions to create a high quality and contemporary living space tailored to the prime rental market. In-depth heritage analysis was also required to separate the significant historical detailing and pastiche additions in order to meet the requirements of English Heritage and Westminster City Council. Addressing these elements proved challenging; the historical refurbishment carried out by Sir Edwin Lutyens in the early 20th century modernised the property with a new lift and entrance, as well as a Neo-Classical order to the original Regency period style. Other project challenges were encountered with major repairs needed due to the severe state of dilapidation.
Chris Hall, Project Director, said: "138 Park Lane required a balance of sensitive heritage design and sound commercial thinking. Working with Westminster City Council and English Heritage, we were able to define the key significant period design and detail elements and restore them to their original state. As both the architects and the interior designers on the project, we were also able to embrace the challenges posed in a fully cohesive manner. We are very pleased with the end result."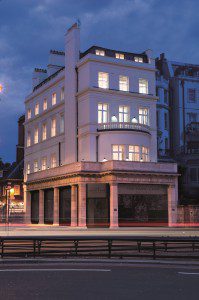 The property at 138 Park Lane was built in 1832 by John Elger as a late Regency style brick and stone townhouse comprising five storeys and basement. It was especially popular during the mid-Victorian period in the 19th century, when Park Lane was one of the most desirable addresses in London, however with the increased use of motor vehicles it had a more turbulent time with the building being adapted for various purposes, such as residential, commercial, and public uses, and has undergone a number of unsympathetic restorations.
Today, the accommodation is based across five storeys and comprises three, two bedroom apartments, a one bedroom penthouse, and a commercial unit at ground and basement level. Crystal Suite is a two bedroom duplex apartment on the ground and first floor, the most important floor from a historical perspective with an enfilade of three principle rooms and extensive ornate detailing. On the second floor there is a two bedroom apartment, Olive Suite, with an external terrace. Unlike the other apartments, this floor has been largely unaltered over the years. Barley Suite is on the third floor, and there is a one bedroom penthouse on the fourth floor that benefits from a private roof terrace, which is a new addition to the existing flat roof providing views over Hyde Park.