A spectacular new home, paired with a visionary new lifestyle, could become a reality for prospective new homebuyers in the North East as CALA Homes unveils a duo of sumptuous new show homes at its landmark Craibstone Estate development.
No stranger to exquisite abodes that perfectly mirror the exclusive location in which they are set, CALA Homes exceeds expectations when it comes to inspiring potential new homebuyers in search of more than just a new home.
Seamlessly blending impeccable interiors with the quality design that is synonymous with a CALA Home, the unique setting of Craibstone Estate is perfect for showcasing the lifestyle prospective new homebuyers can look forward to at the tranquil new community.
Luscious greenery enveloped by mature woodlands and carefully crafted homes creates a haven for new homebuyers to live and breathe. A flourishing forest setting comprising trails and a tree-lined entrance creates an extraordinary setting which is ready and waiting to be discovered. Forming part of the new CALA 'Light and Space' collection, both new show homes perfectly complement this stunning location, boasting a contemporary philosophy with nods to nature which has been carried throughout.
Each property has been styled by Eileen Kesson of Envision. Interior design, with enhanced space and considered design the inspiration for the interiors of The Cleland and The Brompton. With an emphasis on new-age living, the interior design within each home draws prospective new homebuyers' attention to the family areas with secluded niches highlighted throughout. Paying homage to the beautiful woodland location which surrounds the new development, subtle leaf-based designs and organic materials features prominently throughout each home.
The exciting new layout and design of the homes was the incentive for the use of exciting new style-led furnishing sourced from around the world. Both show homes have been designed to complement one another – displaying similar interior synergy. Comparable in both colour palette and attention to detail, the composition within the properties has stepped away from the show home norm, creating a distinctive display for the exclusive development.
The larger of the two plush new show homes is the four-bedroom detached Cleland, awash with clean white, infused with shots of violet which has been off-set by deep charcoal carpets and bespoke slate flooring. As guests enter the property, the living area sets the tone for this spacious home, with light pouring in to the spacious living area through dual aspect windows – hinting at the grandeur that is set to unfold as guests move through the property. An ultra-modern matt white kitchen and furniture creates a sleek ambience – perfect for creating a bright and airy space at the heart of the home. A state-of-the-art and clean space for new homebuyers to live and enjoy, cool colours create a stylish approach to family living while retaining a sense of opulence. Rich creams and hues of pale pink in the master bedroom create a look and feel that acknowledges the exclusivity of the property. Boasting a selection of Italian contemporary lacquer furniture and layers of textured bedding, the design exudes a luxe ambience – perfect for unwinding after a long day.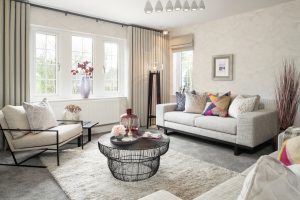 The four-bedroom semi-detached Brompton is the second of the two show homes. Boasting a similar clean white base, The Brompton's colour palette is off-set with accents of soft coral and shades of living pink. Décor within the contemporary living area reflects that of light and sophistication. A bespoke fireplace immediately draws attention to the centre of the room while soft furnishings in pale pink create a harmonious blend which resonates throughout the entire property. Moving in to the kitchen, a cool and sleek finish has been achieved using matt white with accents of charcoal grey which has been carried throughout the property. A large floating dining table with a grey wash wood top creates the perfect place for families to relax, chat and play. A cosy family hub within the kitchen and living area is differentiated using a contemporary sofa with accents of natural grey. Dual aspect windows and French doors leading to the garden area allows light to flood the room. The master bedroom within the property is a stand-out feature within the show home – perfect for escaping busy family life. Rich creams and timber textured furniture create a boudoir feel, complemented by a low French-inspired bed and coordinated side tables. Layers of textured bedding and sumptuous drapes add a heavenly quality to the room.
Fraser Carr, Sales and Marketing Director for CALA Homes (North), said, "Craibstone Estate is a truly unique development, therefore we wanted to create something really special in our show homes to complement the exclusivity of its location while showcasing family living.
"The interior design within both The Cleland and The Brompton creates a new look for show homes in the North East. Each property retains elements of classic CALA design and quality, but with a modern edge that's in-keeping with Craibstone Estate.
"Those seeking a beautiful luxury home, set within a vibrant new community in a truly unique woodland setting will be inspired by this location. And with two new show homes available to view now, it's even easier to see the lifestyle you've always dreamed of."
As well as the two exemplary show homes, the development boasts a pioneering new sales suite that greets guests and introduces prospective new homebuyers to the CALA way of life from the minute they step into the development.
Prices at Craibstone Estate start from £269,950. For further information, please visit www.cala.co.uk.