On Wednesday 11th November, Hansgrohe SE, the German bathroom fittings and shower specialist, was among 400 professionals from the kitchen and bathroom industry invited to attend the annual Designer Kitchen and Bathroom Awards 2015. Held at the SuperNova in central London, the awards luncheon celebrated excellence in professional residential design and innovation in new product design.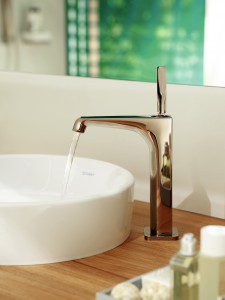 Hansgrohe was the only manufacturer to receive three Gold Awards recognising the company's commitment to design excellence, innovation and functionality in the bathroom and kitchen. For 'Innovation in Design' in the bathroom products category, the Gold Award went to the most recent Axor Citterio collection, Axor Citterio E. Twelve judges drawn from all corners of the industry recognised the design merits of Axor Citterio E which triumphed ahead of hundreds of entrants.
For the 'Innovation in Functionality' category, which considered both bathroom and kitchen products, Hansgrohe scooped two Gold Awards for the Axor Select Kitchen mixers and Axor Universal Accessories.
All three Gold awards were collected by Jay Phillips, Sales Director – Projects, Hansgrohe UK who comments; "We are delighted to be recognised as one of the design pioneers in the sanitary industry. Thanks to our close collaboration with experienced top architects, we are able to create intuitive designs which combine functionality with sophisticated aesthetics in order to provide our customers with the highest standard in terms of product design and innovation."