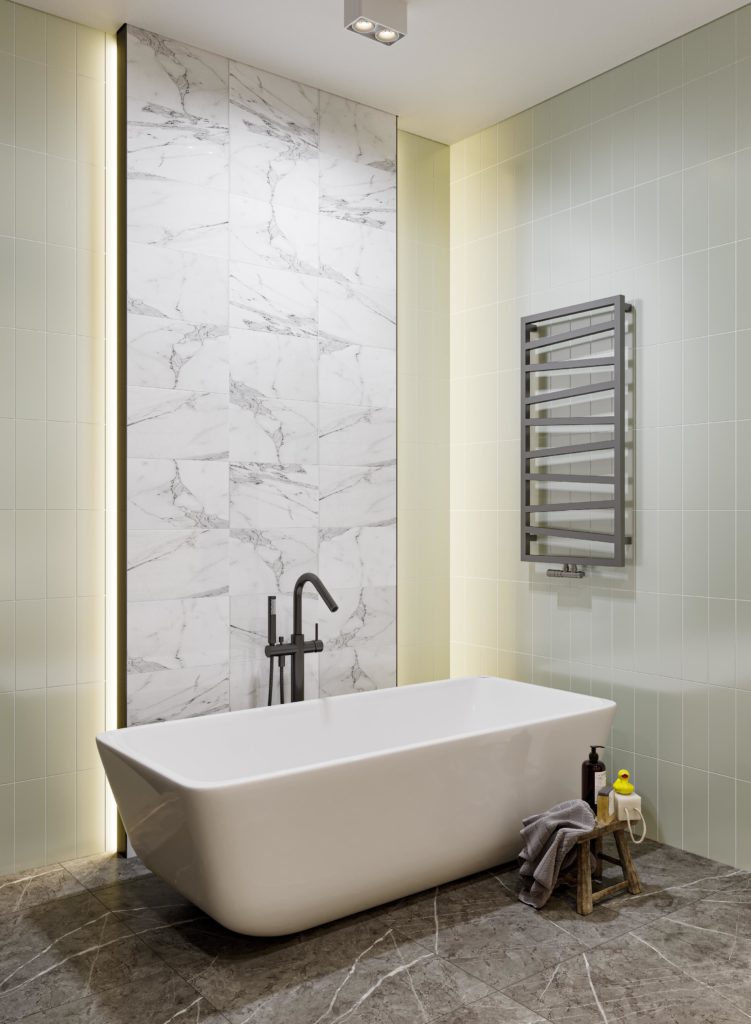 Alternative materials and high-end styles – including stick on tiles and marble and black designs – have become popular trends in kitchen and bathroom design this year, according to the latest trends data from Google.
Growing consumer demand for new innovations and aesthetics can be seen through changing Google searches for different products over the course of the year, particularly since the lockdown began in March.
In May, stick-on tiles overtook ceramic tiles as the more searched for product for the first time ever. Google searches show that since the lockdown began interest in stick-on tiles has increased significantly, with a 200% increase between March – September for the term 'stick-on tiles for bathroom' compared to the preceding seven months. Similarly, searches for 'stick on tiles for kitchen' went up 150% over the same time period.
Ceramic tiles have long been the de facto choice for kitchens and bathrooms; however, these changes indicate that new solutions are disrupting the traditional assumptions of how we build these spaces.
This boom coincides with other increasing trends. Searches for 'DIY' approximately double around the same time as searches for 'stick-on tiles' increase. This suggests that easy-to-apply tiling alternatives were a frequent choice of product as people took to home improvement tasks during the lockdown period.
At the same time as interest in alternative kitchen and bathroom materials has grown, specific aesthetic trends have also come to the fore. Searches for terms related to granite, marble, black and Victorian style kitchen and bathroom designs have all been growing in popularity over 2020. Searches for 'Marble bathroom tiles' in particular increased by over 100% in the first six months after the start of the lockdown and at the end of August 'Victorian style tiles' more than doubled its average number of search queries.
Wall coverings specialists Reco Surfaces has responded to these changes with a new range of PVC panels for kitchens and bathrooms that offers granite, marble and Victorian styles in a range of flat or moulded solutions. The new range, which will launch in October, also includes hexagon and chevron designs, due to growing customer demand for these styles.
Charlie Fleet, Managing Director of Reco Surfaces, said: "There have been a lot of changes over the past year and this Google data shows how our view of kitchen and bathroom products is yet another change that's been driven by the twists and turns of 2020.
"Designers looking to ensure that kitchens and bathrooms in new homes are attractive to home buyers and tenants can see that the market has moved beyond ceramic and is embracing a new type of tile. This is no surprise, given that stick-on tiles provide a number of advantages, such as being quick and simple to install combined with the fact that it's easy to have them made in any colour, pattern or design without breaking the bank or requiring specialist skills. What's more, PVC panels have a low carbon footprint, as they don't take much energy to produce and are entirely recyclable.
"The ability of our panels to be fitted by anyone with basic DIY skills has seen them become particularly suitable for home improvement projects during the lockdown, as it eradicates the need for a tradesperson to come into the home and doesn't require the skills and time needed for the expensive templating of glass and marble solutions."
Share this news on our LinkedIn or Twitter.
See more news here.