Construction Youth Trust were honoured by a visit from His Royal Highness The Duke of Gloucester to their construction training centre in Bermondsey, where he met both current students as well as supporters of the Trust.
Having opened in April 2015, the Construction Youth Trust Training Centre in Bermondsey aims to support young people in Southwark to access training, education and employment opportunities in the construction industry. The training centre offers multi-trade courses with an opportunity to achieve an OCN London Level 1 Award in Health and Safety in the Environment. The Duke was joined on his visit by other key supporters of the Trust: Tony O'Reilly from Grosvenor, Master Terry Last and Ian Edwards from the Worshipful Company of Paviors, and Councillor Ian Wingfield from Southwark Council.
During the visit, all the guests were given a tour of the centre and its facilities, as well as meeting the students who are taking part in the current Budding Builders course.
Budding Builders is a Construction Youth Trust programme which helps to remove barriers to employment by providing young people with an opportunity to learn new, demand-led skills in a variety of different trades; offer CSCS card training and support; and clear progression routes into work or further training. The courses aim to inspire young people who may not be in education, employment or training, about career choices in the built environment, and to provide them with a sense of direction and motivation, with employment becoming a more achievable goal.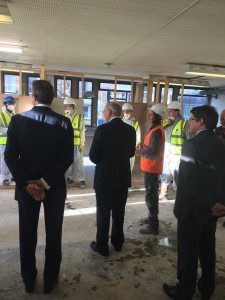 The current course running from the training centre runs Monday-Wednesday for three weeks, with students learning plastering and dry-lining alongside a Level 1 Award in Health and Safety leading to CSCS card attainment and work placement with the Routes Into Construction programme.
The visit was a fantastic opportunity for The Duke to meet the staff and experience first hand the day-to-day work of the Trust, as well as meeting beneficiaries of the Budding Builders programme.
Anna Walterskotter, Regional Operations Director for Construction Youth Trust commented: "We were honoured to receive a visit from The Duke and show him the day-to-day running of our training centre, it's great for him to know what goes on at the ground level. It was a fantastic experience for the students too – their plastering work received the royal seal of approval!"
Christine Townley, Executive Director at Construction Youth Trust also commented: "The Trust is delighted to have hosted His Royal Highness at our Training Centre in Bermondsey.   The Duke met with local young men who are learning construction skills and working towards getting a CSCS card; the health and safety standard for getting into construction.   The Duke also met with key partners and supporters of the Trust and was able to see how we best bridge the gap between communities and construction.  Southwark has many opportunities in construction on the horizon and we want to help as many young people on their journey to work in construction and have brighter futures."
In the New Year Construction Youth Trust will be running the Construction Skills course on a regular basis and welcomes young people from all London boroughs who are currently looking to gain a CSCS card and find employment or training in the construction industry. A taster day is planned for the 14th December for young people interested in 2016 courses.
T: 0207 467 9540
E: london@constructionyouth.org.uk