When crafting a bathroom it's the finishing touches that often bring everything together and
complete the look; be it elegance and glamour or a sophisticated urban edge. The new Black
Selection of accessories from KEUCO with their deep black silk matt finish brings a touch of luxury to
every element in the collection.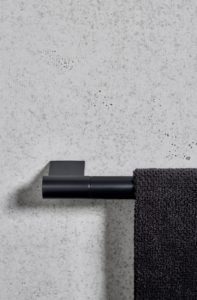 There are 19 offerings in the series, this includes three different styles of towel hook as well as different versions of towel rails, tumbler holders, toilet paper holders, shelves and cosmetic mirrors. Each element has been coated in a special lacquer making them exceptionally durable, tough and easy to clean and all are colour matched in RAL 9011. This means that the products can be combined with KEUCO's freestanding accessories and shelving which is also available in RAL 9011.
The Black Selection is tactile, the surface has a velvety matt finish, making it not only pleasant to
touch but easy to grip. The simple lines and minimalist design of the accessories make them
unobtrusive in the grand scheme of bathroom design, but boldly stylish in their simplicity.
Like a perfect little black dress the KEUCO accessories do not draw attention to any one particular
aspect; but artfully complement the finished scheme. https://www.keuco.com/gb/
To stay up to date on the latest, trends, innovations, people news and company updates within the UK property and house building market please register to receive our newsletter here.
Media contact
Rebecca Morpeth Spayne,
Editor, Showhome Magazine
Tel: +44 (0) 1622 823 922
Email: editor@yourshow-home.com