As part of a major regeneration project in Sheffield, Marley Alutec's aluminium rainwater products have been used in a state of the art housing development for over 55s constructed by Sanctuary Group.
Set in Arbourthorne, Sheffield the 52 specially designed apartments, arranged in two C-shaped blocks to create a sheltered central garden, and four bungalows provide much needed new energy efficient homes for rent in the area. Designed to a minimum Code for Sustainable Homes level three, HTA Design LLP were responsible for specifying the best performing building materials to suit the stringent planning requirements, including the rainwater and eaves systems. 
Paul Maddock, Senior Associate at HTA Design, commented: "Right from the beginning of this project there were two major priorities for the build. The first was meeting the Code for Sustainable Homes' targets and this meant we had to source the best performing building materials in this area. Marley Alutec's aluminium products were the perfect fit as they offered impressive sustainability credentials."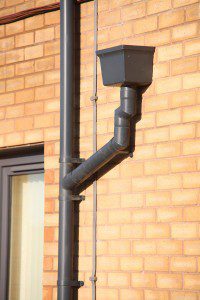 Installed at the project were Marley Alutec's Evoke fascia and soffit system and Aligator Boxer 160 x 100mm guttering with Flush-fit 76mm downpipes, all in Anthracite Grey colour RAL 7016. All manufactured from aluminium, Marley Alutec's rainwater and eaves products are amongst the most sustainable available in the UK, as after their extended life span both can be fully recycled. Indeed, it is estimated that 75 per cent of aluminium ever produced is still in use today.

Paul continued: "The second major priority for this project was the level of service that the buildings and landscaping would offer its elderly residents. It was important that each material and component chosen was of high quality, that it would stand the test of time and wouldn't require excessive maintenance. Not only are materials like these appealing from an on going cost perspective but it also means that there will be minimal disturbance to the residents by visiting tradesmen." 
Made from marine grade aluminium, Marley Alutec's Aligator Boxer gutter system is impervious to corrosion and has a life expectancy of 50 years or more. What's more, this extended life span is virtually maintenance free meaning it will continue to look its best for many years to come.
Marley Alutec's Evoke fascia and soffit system shares the same life span as the Boxer guttering but is manufactured from a recycled polyethylene core with a composite aluminium outer layer. In addition, the Evoke system features a unique nano self-cleaning coat resulting in a further reduction of maintenance requirements. 
Paul concluded: "The whole project was designed to have a clean and simple aesthetic, using a minimal pallet of colours and finishes. The aluminium rainwater and eaves systems from Marley Alutec suited this brief very well with their smooth lines and angular profile.
"Importantly, the entire design and build process has been influenced by a steering group made up of local residents, a member of the Arbourthorne Tenants and Residents Association and a member of Sheffield's Expert Elder's Network to ensure the end result is a success for everyone. Now complete, the project is a great example of how smart specification and local consultancy can yield exceptional results." 
For more information please visit www.marleyalutec.co.uk