InSinkErator®, the global leader and inventor of food waste disposers and major player in the steaming hot water taps market, has the perfect companion for spring cleaning your home, the 3N1 steaming hot water tap.
With short winter days coming to an end, and with summer well within reach, the annual spring clean is now upon us. Traditionally, the act of spring cleaning was to wash away the soot, which accumulated from frequent roaring fires that kept the house warm over winter. Today, a spring clean is more about pulling out the sofa, and less about sweeping the soot away from the artwork.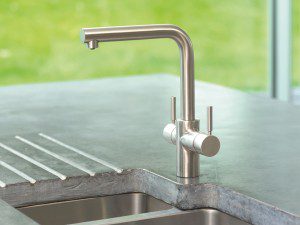 There is a plethora of cleaning supplies available today, but there are also great natural alternatives to toxic chemicals, to help get the job done. Home-made concoctions of steaming hot water, lemons and white vinegar make superb cleaners and leave fewer residues compared with shop-bought detergents, and an InSinkErator® steaming hot water tap makes hot water instantly available for a multitude of spring cleaning tasks around the home.
The InSinkErator® 3N1 kitchen tap offers instant filtered steaming hot water up to 98°C, alongside hot and cold options, encased within a stylish and contemporary one-piece Italian design. The 3N1 completely eliminates the time and energy lost waiting for water to boil, making your spring clean speedier, while the versatility to switch to hot and cold water within the same fixture contributes to countless other tasks, and saves worktop space. Cleaning becomes simpler and more economical, benefitting your pocket and reducing the impact on the environment. The InSinkErator® 3N1 kitchen tap also eliminates the wasted water that results from an overfilled kettle; as you only heat the water you use.
Kevin Carr, UK Sales Manager, for InSinkErator®, says: "The 3N1 steaming hot water tap is a stylish and convenient addition to the kitchen. Not only does it manage efficient water usage in the kitchen, it also ensures hot water is available on demand, and is ideal when using water for mopping, scrubbing and cleaning the home.
For more information on InSinkErator® steaming hot water taps, consult your Account Manager or visit the website at www.insinkerator.co.uk