Phase one of Edinburgh Council's multi-million pound Pennywell development, one of Scotland's largest housing-led regeneration projects, is almost complete.                      
The first 196 units of the 750 property 21st Century Homes project, which aims to create high quality social housing by developing brownfield sites, was constructed by Urban Union and features Russell Roof Tiles.
The Pennywell development is situated just over four miles from the city centre. The site has a range of homes, including one to four bedroom houses and apartments.
Russell Roof Tiles was specially chosen to supply their products due to its solid guarantee and the wide range of tile colours available. Architects for the project, Barton Wilmore, the UK's leading integrated planning design consultancy, specifically requested contrasting colours for the roof tiles to compliment the end of the blocks of residences.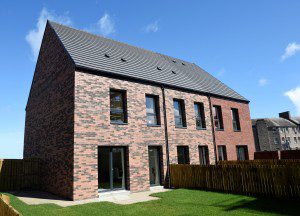 Craig Kidd from Urban Union, a joint venture company established to deliver regeneration projects across Scotland, commented on the project: "Top quality design standards have been incorporated throughout the Pennywell development using the best possible materials including Russell Roof Tiles.
"The apartment block roofs have been designed to ensure that rainwater and external materials are pushed away from principal elevations and Russell Roof Tiles have been used successfully throughout.
"This holistic approach to design at Pennywell has resulted in the emergence of a distinct architectural character and a development which works to enhance the local area by knitting together wider neighbourhoods – promoting a sense of place and community."
The roofing work began the project in November 2014 is expected to continue until into 2018 and will feature Russell Roof Tiles' Grampian tiles in both anthracite and the darker shade of black.
Andrew Hayward, Managing Director at Russell Roof Tiles commented: "To be involved in one of Scotland's largest housing-led regeneration projects is fantastic and testament to the quality of the product. Producing the tiles in both anthracite and black responded directly to requests from the architects for contrasting colours on the end of residence blocks."
The Grampian is a standard flat interlocking roof tile, combining the traditional appearance of slate with the security of an interlocking design and the economy and sustainability of concrete. Concrete roof tiles are a long life, durable product and require minimal maintenance once installed – a feature which means lower maintenance and repair costs.
Russell Roof Tiles is a leading independent roof tile manufacturer providing products for leading UK house builders and high-profile social housing and commercial projects, where sustainability and eco-credentials are of the utmost priority.