A survey from Whathouse.com has provided some fascinating data on the house-hunting wants and needs of visitors to the UK's leading new homes portal…
Visitors to the site who have signed up for property details from the site over a few days in June 2016 were questioned by the survey team on a number of topics.
Further questions to those in the survey focused on the other information that they were interested in that related to their property search. 41% were actively looking for mortgage advice (which is a need met generously by the website's thorough mortgage section and twice-weekly mortgage news and features), 31% looking for life insurance information and 28% were seeking a suitable conveyancer.
The full list of property-related topics and level of interest from the survey is:
Mortgages – 41%
Life insurance – 31%
Conveyancing – 28%
Removals – 15%
Flooring – 8%
Conservatories – 4%
Gardens – 3%
Respondents also indicated that they would be happy to receive advice and contact from WhatHouse? throughout their buying process.
Editor Keith Osborne says: "This survey has given us a real insight into the needs of the thousands of people who visit our website every day. It shows that the homebuying process isn't just about finding a great property – it's about information and insight, too, together with a host of other vital services in the finance, home improvement and logistics sectors. This has affirmed our belief that providing unique and high-quality news, advice and features to house-hunters every day is as important as having the latest properties listed."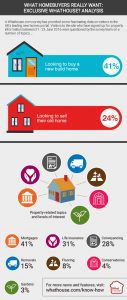 Original source:  http://www.whathouse.com/news/what-homebuyers-really-want-exclusive-whathouse-analysis/