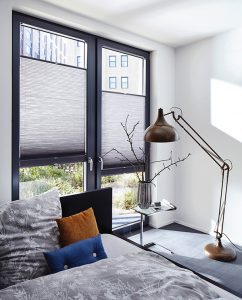 A new season brings new beginnings; a new school year, a new wardrobe and a fresh source of inspiration for home interiors. As temperatures drop and the nights draw in, it's the perfect time to revamp the home, introducing the exciting new colours of the season and setting the scene for a cosy Autumn/Winter ahead.
The latest Autumn 2016 colour forecast from Pantone, renowned global colour experts, reveals a colour palette that is led by the Blue family. Along with anchoring earth tones, there are also vivacious pops of colour which provide a departure from the more typical autumn shades of the past.
Riverside
Showcasing the importance of Blue in this year's palette, this blue shade is cool and calming and displays a subtle vibrancy and sophistication. Combine with shades of taupe or dusty pinks for a fresh approach to this colour.
Sharkskin
Grey continues its prevalence with this new shade which is pair-able with almost any autumn colour, bright or muted. Sharkskin Grey has an edge, yet manages to remain neutral making it perfect for any interior scheme.
Bodacious
This bright, rich purple with hints of pink lends itself to vibrant colour combinations and works especially well in large open plan spaces where it can add an unexpected wow factor.
Aurora Red
Exciting and dynamic, Aurora Red brings an immediate punch to any interior scheme and is perfectly contrasted against neutral shades and clean whites.
Available in a wide variety of colours, Duette® energy-saving blinds are also a wise investment for cost-conscious homeowners who want to lower their annual heating bills. With an innovative honeycomb design, Duette® blinds are proven to keep up to 46% more heat in the home and can slash annual heating costs by up to 25%.
They come in transparent, semi-sheer and black out options, are humidity resistant, fully wipeable, have no visible cords and can be motorised making them a great investment for all rooms in the house.
To find out more about Duette® blinds visit www.duette.co.uk