At what point should we consider integrating smart technology? Julian Synett, Managing Director of Interphone Limited spoke to Showhome Magazine on where to begin.
At what point should I consider integrating smart technology?
The planning for any home automation and smart building technology should ideally be initiated at the design stage to ensure that the necessary space requirements and infrastructure are incorporated into any architectural drawings. It is about talking to the right people at the right time, to decide exactly what you want upfront, because implementing a solution further down the line will only create added cost and complexity.
For example, a building will need future-ready cabling to support an installation, something you do not want to be retrofitting after walls and ceiling have been plastered and decorated. There are also some design considerations such as having space set aside for the rack that will house the main components of the home automation equipment or ensuring audio visual equipment is in the optimum positions rather than simply where it fits. Treating smart technology as an afterthought will only lead to disruption and likely disappointment.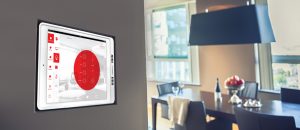 Which automated system am I likely to benefit from the most?
There are a whole host of domestic electrical systems and devices that can be managed and monitored using home automation, but the most valuable and practical solutions at the moment seems to be based around heating and lighting.
Being able to switch internal and external lights on or off from a mobile device or tablet in or away from home is providing high levels of control, especially when you add the ability to create lighting moods and scenarios, or even simulate occupancy while out or on holiday. The ambient level of heating can also be controlled throughout the home, while individual schedules by area or room can also be created for different situations, occupation or time of the year. In fact, it is now possible to automatically turn on heating when a certain distance from home or create remotely-managed plans for holidays or frozen pipe protection.
Central control systems can be used to bring together a whole host of technology and individually-tailor requirements such as heating, lighting, CCTV, blinds, leak detection smoke alarms and home entertainment. This advanced level of integration takes into account personal tastes to meet exact entertainment, communications, comfort and security preferences, with complementary systems working seamlessly to bring added simplicity, convenience and enjoyment to everyday life.
If home entertainment is your biggest priority, then a multi-room audio and video solution can allow high quality content to be accessed anywhere and at any time. A central distribution system combines multiple local and online sources, so television, films and music can be enjoyed from any room in the house. Cinema rooms, whether a dedicated theatre or hidden system fitted in a living room, are also increasingly sought after by those looking for the best possible viewing experience.
Can automated systems help me save money on my energy bills?
Yes, properly programmed heating, cooling and lighting automation will certainly help to reduce household energy usage and save money. Even at a relatively simple level, smart thermostats offer an effective means of controlling heating and hot water, at home or remotely. Simply lowering your temperatures by 1 degree is said to cut heating costs by 10 per cent and further savings can be made by simply ensuring that heating is turned off when a property is not in use.
Zonal heating systems takes this a stage further, with control over temperatures by room or area, making it possible to align usage based on actual levels of occupancy and personal preferences. If you and your family are spending time together in the living room for an evening, for example, then there is little sense in heating the entire property, but it might then be more comfortable to turn on radiators or underfloor elsewhere shortly before bedtime. Such a system can also be supplemented with motion sensors to further reduce electricity costs, with lighting only switched on when someone is detected in a room or hallway and switched off when empty.
Also, it is essential that certain systems work together to achieve optimum performance. This may seem obvious, but we have seen examples where the heating and cooling have not been correctly integrated, so they are constantly working against each other. This creates a situation that will incur cost rather than save money.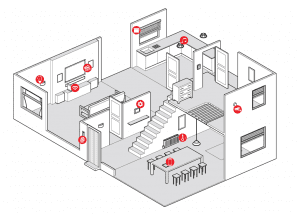 Do I need a strong internet connection for these systems to work?
Having strong and consistent wifi is critical for any home automation system. A smart home is only as good as the wifi network it is connected to, so you need to consider both coverage quality and Internet bandwidth to ensure multiple devices and systems can be operated at the same time from anywhere in the property.
Never assume that a standard wireless router supplied by your broadband provider will be sufficient to provide a robust and reliable signal throughout a property (whatever the adverts may claim). For larger properties, it may be necessary to use more than one router, which could have implications in terms where to run an additional Ethernet cable. The quality of a signal is not just impacted by distance, but also the number of walls it must travel through, so the location of each router does need careful consideration.
In terms of bandwidth, most Internet of Things (IoT) appliances use relatively small amounts, although we do not know how this could change in the future. The one exception currently are security cameras, which tend use a large amount of data. However, this can be reduced significantly by specifying non-HD or black and white devices.
I'm not very tech-savvy, how easy are they to operate?
There are plenty of home automation systems out there that are relatively easy to install and operate, but this very much depends on the level of control you are looking for. It is not necessarily about being tech savvy or not, but having the willingness to commit time into understanding what you want and how best to achieve it.
If you are looking to install one control system in a single place, then it is possible to bring together multiple apps and components in a simple and intuitive way. However, such a home automation solution will typically require some professional support and programming.
If I'm not happy with a system, can I easily remove or replace it?
This very much depends on the level of sophistication you have gone for. A DIY solution based around a smart thermostat or security system would not be too complicated to remove or replace it. But with hardwired home automation across a wide range of systems is likely to be costly and disruptive to change, even if you are able use the same cabling and wifi infrastructure.
What this demonstrates is the need to get the design and planning right in the first place, so you are happy with the system from the outset and it meets your individual requirements. There are many potential pitfalls for self-builders, so seek guidance wherever possible and try to tap into the expertise of specialist contractors.
About Interphone Limited
Interphone (www.interphone.co.uk) is a security systems and building technology integrator with over 55 years of experience in designing, installing and maintaining electronic control technology. As part of its wide-ranging expertise, Interphone provides advanced home automation and entertainment systems that deliver complete control of virtually any technology in the property at the tap of a touchscreen, smartphone or tablet. These integrated and smart building solutions, suitable for projects of all sizes, are designed to make everyday life easier by combining familiar systems that work seamlessly together for added simplicity, convenience and enjoyment.
Interphone has commissioned a series of home and building automation whitepapers that can be found here: http://www.interphone.co.uk/white-papers