Certainty in an uncertain world of funding and knowing that a lender won't let you down, is what Go Develop claims sets it apart from the crowd.
It's not often in this world that you get something for nothing. That's why so many developers do a double take when Go Develop explain how the funding model works.
Their developer partners have no outlay – not a single penny. No deductions, no hidden fees, no costs. Go Develop provide full 100% land and build funding for new build property development from their own substantial resources. In fact, when you include the stamp duty and soft costs, it can be 115% of loan to cost. No one else in the country does it, which helps explain why Go Develop have over 1,000 plots under development, nationwide. Go Pro explain:
How does the 100% funding actually work?
It's all remarkably simple. Typically, we look for experienced developers focusing on new-build apartments and value family housing where house buyer demand is at its strongest. But we also fund great development schemes that are under option, pending planning permission. The GDV is usually between £2-15million and up to 24 months duration. A project is swiftly appraised and a profit share agreed for the full purchase and development funding – usually 60% in the developer's favour.
A new 'SPV' (Go Develop company) is set up to hold the project until it's finished and sold, with a profit share contract for both parties. On completion and sale of the property the profit is divided.
How long does it take to get funding?
Having a long, successful track record in property, rather than banking, we recognise the need for fast, flexible funding and transparency, so that developers can complete their current project and spread their capital over a wider project mix. This allows increased development capacity and accelerated business growth. A winning combination for both developer and funder.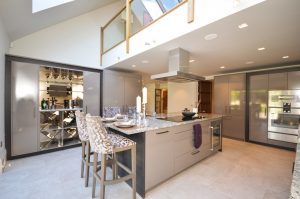 Through our joint venture partnership, we can issue binding terms within 48 hours and indeed in some cases have completed a purchase within six working days, although 30 days is more typical. We release development funds, without any deductions and pay the full 100% often within 24 hours. Go Develop cuts through the delays and constraints developers can often experience with traditional lenders.
What differentiates Go Develop?
Certainty in an uncertain world of funding, and above all knowing that a lender won't let you down, is what sets Go Develop apart, and why so many repeat clients and brokers return, time after time.
In a world where Brexit and economic news breeds fear, postcode slotting and excuses, it's good to know where you stand with your lender. Go Develop's success has been partly due to lenders, both high street and non-high street, increasingly announcing policy changes on what they will and won't do, where LTV's are wound back and policy u-turns abound. The absolute certainty of Go Develop funding is the simple, cost effective, sleep-easy at night option for all developers.
Some lenders don't always understand the essential partnership of developer and funder. We see well known funders placing hurdles too high to jump over, mining fees and taking forever to follow through. From a 'computer says' mentality, postcode prejudice or over reliance on a less than perfect credit record; these and many more clunky processes can leave a great new-build project dead in the water.
At Go Develop we focus on the present, not the past. We look at each individual case and can see the bigger picture as the whole team has a developer background. We ensure we work to our client's needs and stick to what we say, through thick and thin. As it's a joint venture partnership we are driven to make the partnership work from start to finish and being proud of what we do, our reputation is our currency and your security.
Any further benefits of a joint venture partnership?
Working in partnership with Go Develop, there's just one close relationship, one set of legal fees, and one survey fee, keeping things simple and efficient. No long-winded inter-creditor agreements and red tape plus substantial savings to boot. Go Develop really are a one-stop cost effective funding solution and where the developer partner does not need to put a penny into the deal.
Delivering funds on time, every time, fast and fuss free and being simple to do business with, enables developer partners to do what they do best, crack on, develop and build their business.
What feedback do you have from other developers?
In short, outstanding feedback with over 92% of our developer clients becoming repeat clients, many having 3-4 deals under development with us at any one time.
Go Develop JV partners are currently building over 1,000 units nationwide, and at a time where other lenders are winding back, we are continuing to reach out with our own substantial funds.
One exciting project that has just been successfully completed is based in Tadworth in Surrey. The site had planning permission in place for a brand new detached home set in its own grounds of half an acre. The property boasts six bedrooms, over three floors, a pool house, double garage and a generous driveway with access to south facing grounds at the rear.
The house lies in the prestigious private Kingswood Estate, approximately 19 miles from Central London and with good links to Heathrow and Gatwick airport. Frustrated with the time taken to refinance through a traditional lender, the developer turned to Go Develop for swift, transparent joint venture funding and the result has been a stunning development on time and within budget.
Successful developer returns to Go Develop for £3,696,753 project
A well established and experienced developer in the Thames Valley approached Go Develop with a joint venture opportunity in Aldermaston. The site had planning permission in place for 14 dwellings consisting of 1×4 bed house, 11×3 bed houses and 2×2 bed houses. Go Develop jumped at the opportunity, purchasing the site as freehold with full vacant possession. Construction was able to begin immediately, thanks to the fast, flexible funding made available in 12 days from purchase.
The location was particularly desirable for young families and professionals, being within easy reach of Newbury, Reading, Basingstoke and Wokingham. The total GDV for the project was £4,990,000 with an average unit price of just over £350,000.
This project was completed successfully after 18 months and a second joint venture project with the same developer is already half way through elsewhere…with a third in place.
100% JV funding from Go Develop for 10 home development in Buckinghamshire
An experienced developer who had worked with Go Develop previously, initiated another joint venture opportunity in need of 100% house and build funding.
This new opportunity was on the site of a former public house that had since been demolished. The site came with full planning permission for building 10 homes, comprising of 7×2 bed flats, 2×3 bed flats and 1×3 bed detached house.
The site was superbly located in Bourne End, near the railway station providing fast links to Maidenhead and Crossrail. Go Develop were keen to get involved, purchasing the site as freehold with full vacant possession.
At the half way point of the construction the JV partner had received reservations for 6 of the 10 Units at above asking prices. Another successful partnership.
To find out more visit www.go-develop.co.uk.
Save
Save
Save
Save