Housebuilders look for appliances that suit the type of homes they are building, with the prospective homeowner in mind. Whirlpool UK Appliances Limited, parent company to KitchenAid, Whirlpool, Hotpoint and Indesit, is committed to continuously improving its products and services for housebuilders. Whirlpool UK has a four-brand solution to meet the demands of each consumer, for each development and home. From luxurious penthouses to medium-sized family and starter homes, Whirlpool UK has appliance solutions to cover a variety of homes. This four-brand approach ensures housebuilders can provide the most appropriate appliances to a range of properties that target different demographics.
Built-in cooking appliances remain in vogue with housebuilders, with banks of appliances creating a sleek, highly-functional focal point in the kitchen. Each of the four Whirlpool UK brands offer a complete range of built-in cooking appliances. This ensures that there is a full built-in cooking solution available to every price-point of the market.
Luxury Brand – KitchenAid
KitchenAid is a luxury appliance manufacturer, producing major domestic appliances that feature the very best in design and performance High-quality materials evoke style and elegance in the kitchen and KitchenAid appliances feature carefully chosen details, which are beautifully crafted with quality materials. Each and every aspect of KitchenAid appliances are designed and refined to offer the user an unmatched feel and experience, featuring advanced cooking technology to produce professionally-driven results.
The award-winning KitchenAid Black Stainless Steel range features definitive design, with bold features and refined geometry, which take the user's passion for cooking to a new dimension. The appliances are all finished with pure black stainless steel, which is hand-brushed for an iconic and contemporary appearance. The range is also finished with an exceptional anti-fingerprint technology, an innovative treatment that protects the appliance from marks and fingerprints.
The range includes the multifunctional pyrolytic single oven (KOASPB 60600), a highly refined convection oven that provides three cooking methods which work together to produce professionally-driven results; Twelix convection, forced air with steam and pure steam. Twelix radically optimises airflow and heat distribution within the oven, reducing preheating and cooking times, while also guaranteeing that air is circulated uniformly for excellent, professional results every time. The multifunctional single oven features a variety of intelligently designed cooking programmes, producing results that are on a par with the very best chefs, such as Pro Roasting, Pro Bakery and Pro Pastry programmes, which utilise clever algorithms that guarantee chef-like results each and every time. All of this functionality is delivered in a standard, single oven space that offers tremendous cooking performance and flexible space to accommodate the needs of those who are serious about food.
The Black Stainless Steel collection also includes a 450 mm speed oven (KOCCXB 45600), a combination steamer oven (KOQCXB 45600), a combination microwave oven (KMQCXB 45600), a 140 mm warming drawer (KWXXXB 14600) and a built-in coffee machine (KQXXXB 45600).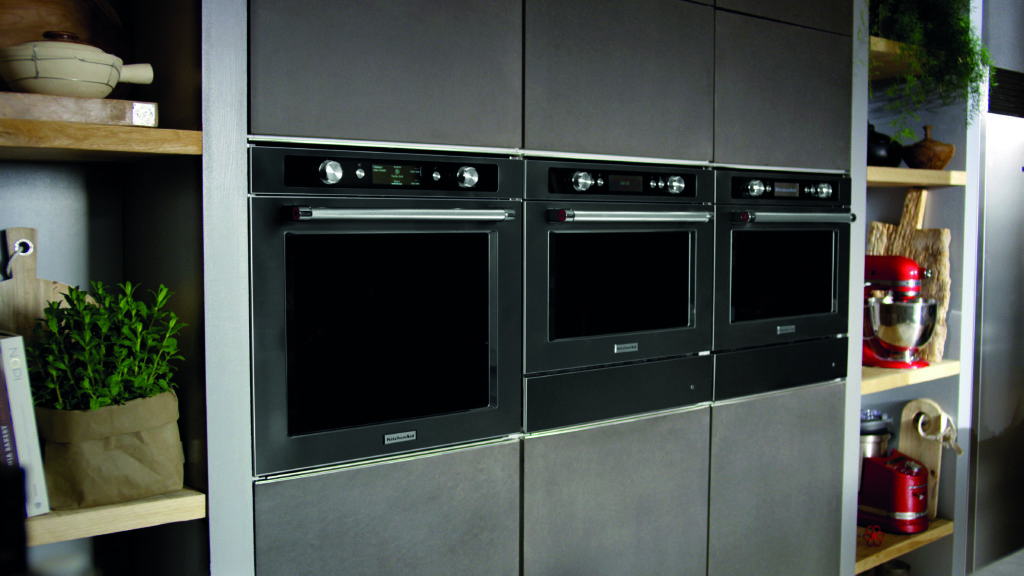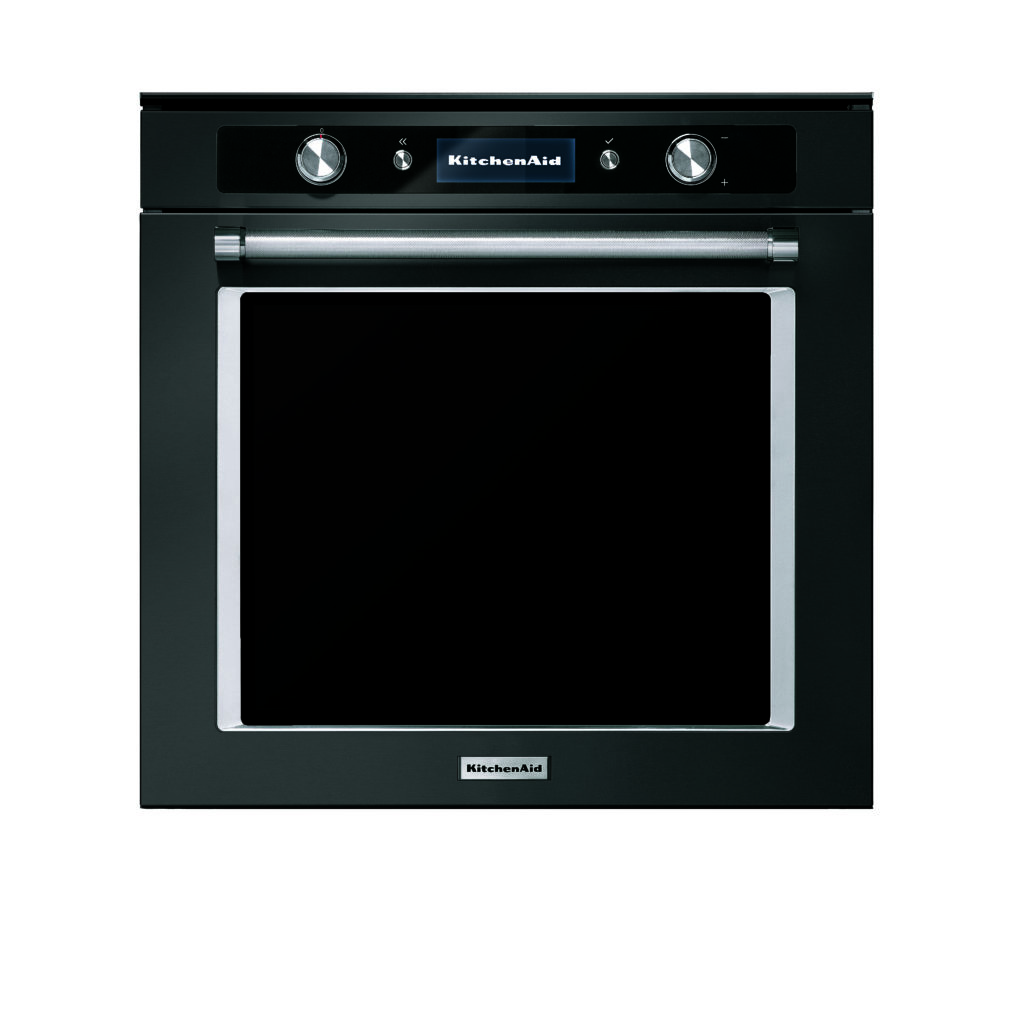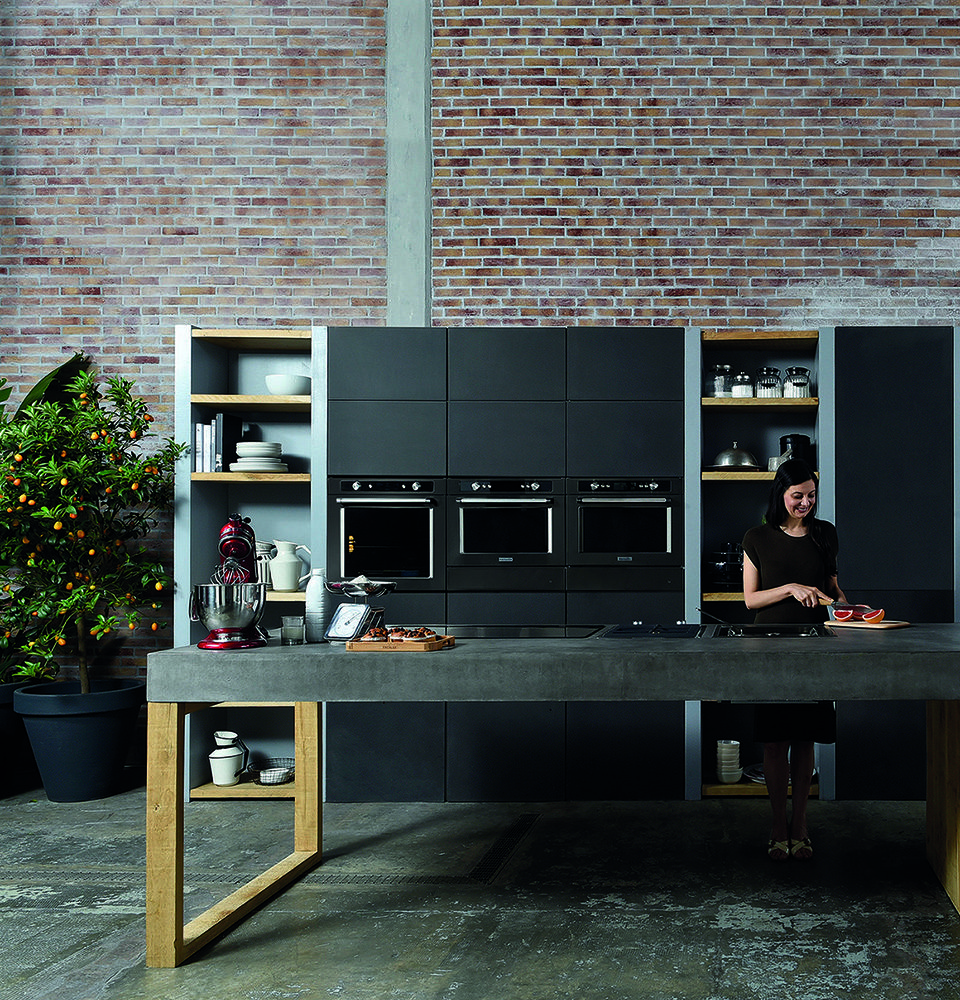 Premium Brand – Whirlpool
The Whirlpool philosophy is that there should be no compromise on quality, performance, aesthetics or value. Whirlpool creates appliances that deliver outstanding design, beautiful aesthetics, stunning new and innovative finishes with phenomenal performance, whilst reducing resource consumption.
The elegant, premium design of the Whirlpool built-in range of cooking appliances is beautifully crafted to complement modern furniture designs. Whirlpool appliances combine intuitive 6th SENSE technology, which guides users every step of the way to perfectly cooked food.
The Whirlpool built-in range of cooking appliances includes the SmartCook induction hob (SMP 778/C/NE/IXL), which offers a revolutionary assisted-cooking experience that makes creating delicious dishes beautifully simple. The SmartCook hob brings together the most advanced 6TH SENSE technology with a unique modern design and, for the very first time, includes built-in culinary expertise, through an intuitive touch interface that guides the user every step of the way to perfectly cooked food. The integrated smart technology offers a whole new level of advanced features and intuitiveness for an even more effortless experience.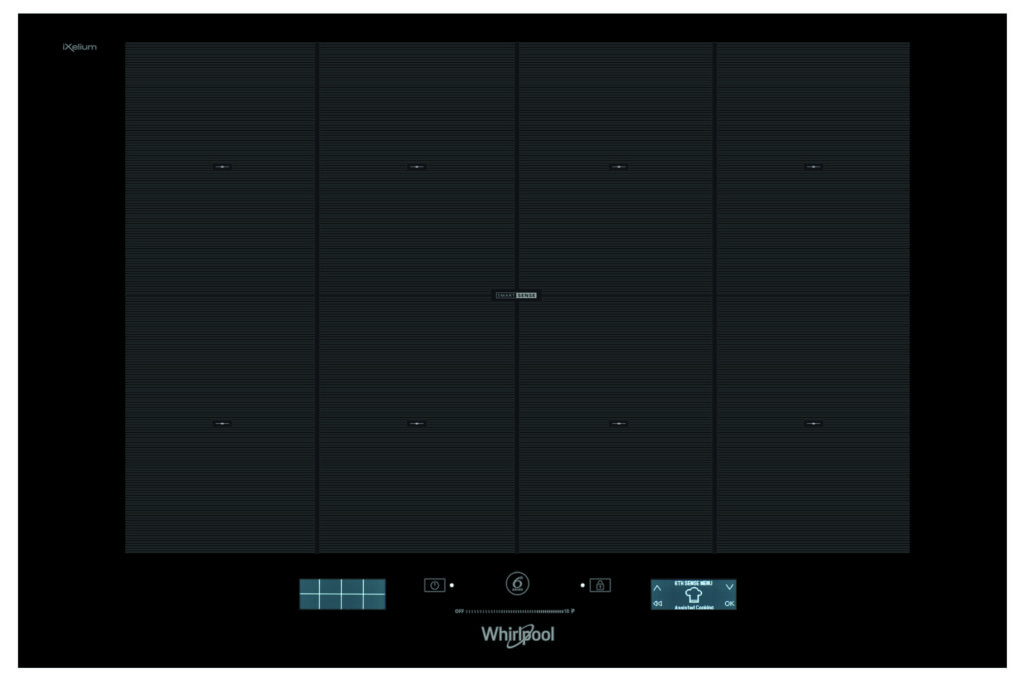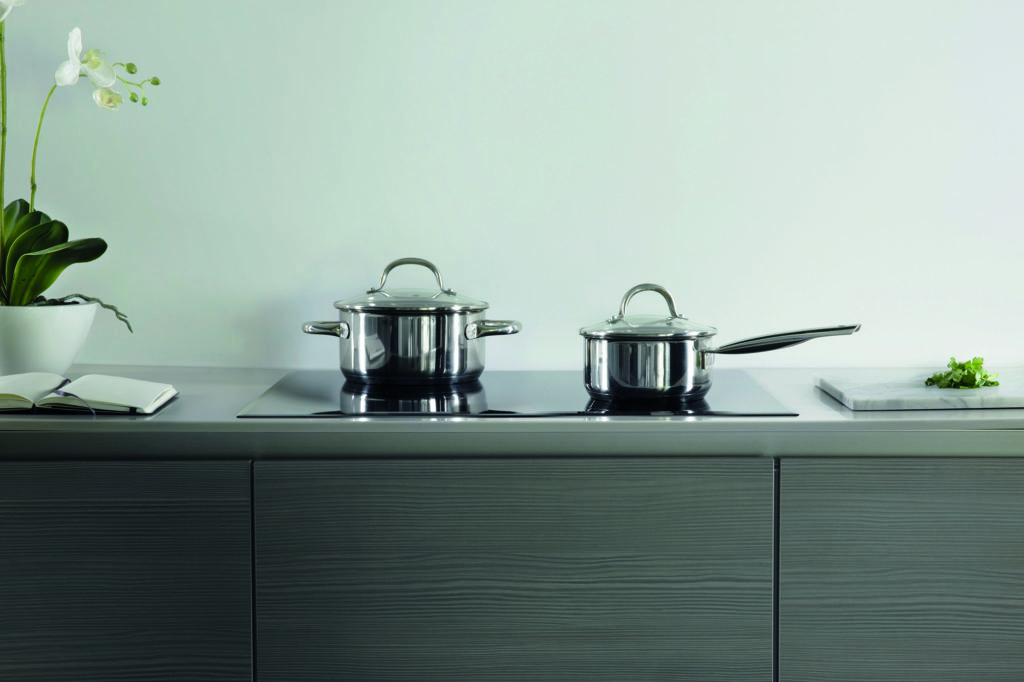 Mid-Range Premium Brand – Hotpoint
Hotpoint believes there is no great result without the care and passion of impressive design behind it. Innovations from Hotpoint are driven by consumer needs, with appliances empowering the user to care for what they value most. Hotpoint appliances provide the ultimate design with a variety of functions and flexibility, whilst also leaving a stunning and lasting impression.
The pioneering Hotpoint Class 9 range of built-in cooking appliances is designed with a modern state-of-the-art aesthetic and crafted from high quality materials to make a powerful and distinctive design statement. The cornerstone of these appliances, however, is not only their incredible design credentials but their impressive functionality.
The range features clean lines and a refined appearance that add a touch of sophistication and an illusion of space to the kitchen. The suite is a contemporary, minimalist glass collection, and is a complete series of appliances crafted from high quality materials. Black glass and steel boast a sophisticated and elegant design and the range features intuitive controls and extraordinary performance that helps the homeowner care for the things that matter the most.
The distinguished suite features the single pyrolytic multifunction oven (SI9 891 SP IX), which benefits from an integrated system of advanced technologies and innovations, ensuring perfect cooking results every time. The Multiflow Heat Distribution system guarantees consistently even cooking results for perfectly cooked dishes on every occasion. The convection system creates an enveloping heat flow at each shelf level and for optimal heat distribution throughout the oven. Heat is pushed into every inch of the oven, eliminating hot or cold spots and avoiding burnt edges and raw middles. Further to this, the incredibly precise electronic temperature control minimises temperature variation, and provides consistent temperature control within two degrees, to ensure the best cooking results.
The Hotpoint Class 9 range also boasts a combination steam oven (MS 998 IX H), a combination microwave oven (MP 996 IX H), a coffee machine (CM 9945 H) and warming drawer (WD 914 NB), for a completely coordinated look throughout the kitchen.
Hotpoint's ActiveCook induction hob (ACP 778 C/BA) complements the Class 9 range perfectly with its sophisticated black glass finish. ActiveCook consists of three different features that help to make light work of cooking: My Menu, Active Heat and Total Flexi technology. When the entire surface of the hob is required for cooking with multiple pans at different temperatures, the Active Heat feature divides the entire surface of the hob into four separate cooking zones. Each zone is simultaneously activated at a different pre-set cooking level and allows users to move pots and pans from one zone to another, without the need to adjust the power levels or settings. The hob has eight individual cooking zones. If needed, the entire surface of the hob can be combined to create one single cooking zone (Total Flexi technology).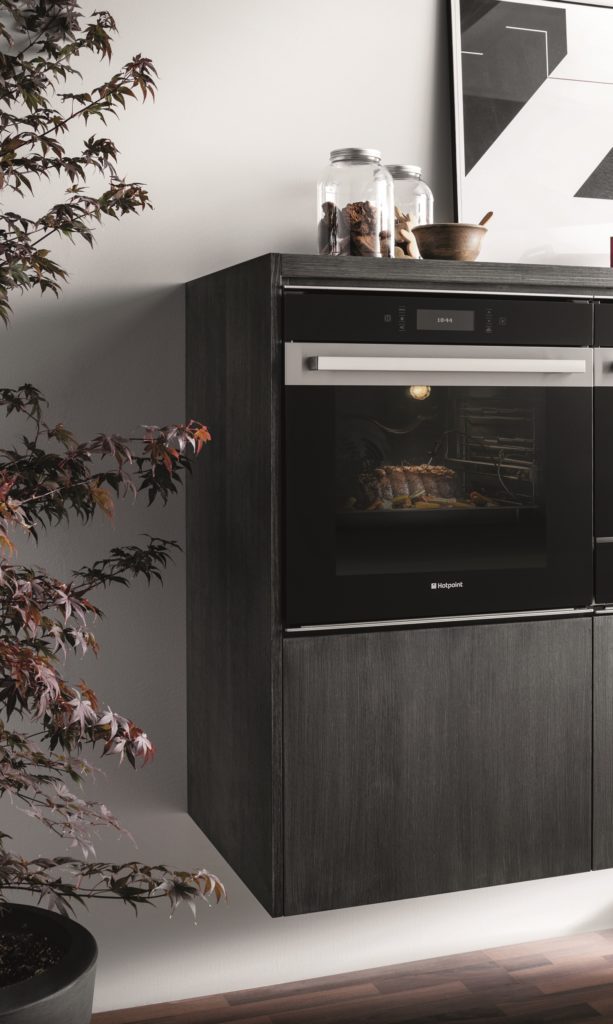 Entry-Level Brand – Indesit
Indesit strives to make everyday home life easier with reliable and practical appliances that save time, money and effort. Indesit appliances are budget-friendly, easy to use and offer the solutions that consumers need to make daily life more pleasant.
Indesit offers a perfectly coordinated built-in suite of appliances that resonates with the needs of multi-tasking families who desire functional, yet stylish, appliances. The Indesit Aria built-in cooking collection guarantees highly pragmatic and reliable solutions for creating the best family recipes quickly and easily.
The Indesit Aria range boasts a stunning glass and stainless steel finish that blends with the modern living area of today. Stainless steel is not only highly practical and hygienic, it is also aspirational, considered professional and stylish, and its neutrality blends easily with countless shades and textures. With the built-in simplicity and ease of use that is sought-after by all generations, it is a range that is perfect for young families, first time buyers and the elderly alike.
The built-in cooking collection boasts the multifunctional single oven (KFW 3844 H IX), which features the clever Turn&Cook function. Turn&Cook allows consumers to cook a selection of handy recipes without the hassle of choosing the right cooking programme. With just one turn of the control knob, the oven automatically sets the cooking time and oven temperature to cook over 80 recipes perfectly, in just one hour. The oven then automatically switches off at the end of the cooking time, so whatever you are busy doing, the dish will not spoil. This clever innovation is ideal for families with hectic lifestyles. Indesit has also developed the Turn&Cook app, available on both iOS and Android devices, which features a selection of recipe ideas.
The Indesit Aria built-in cooking collection also features a microwave oven with grill (MWI 3443 IX), an induction hob (VID 641 B C), a cooker hood (IHVP 6.6 LM K) and a coffee machine (CMI 5038 IX). Together, the appliances boast a high-end kitchen design at an entry-level budget.